Home
'STRONGER THAN STEEL'
In her evidence at the trial of Goran Hadzic a witness testifying under the pseudonym GH 085 described her detention in Serb detention facilities in Sid and at the Begejci farm. As she said, many people have asked her how she managed to survive the prison camp, and she told them that 'a human being is stronger than any steel'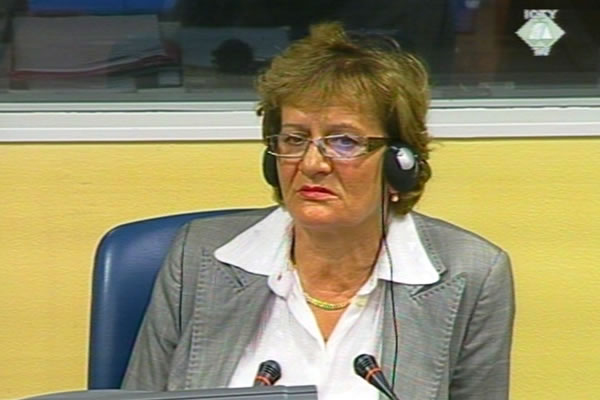 GH 085, witness at the Goran Hadzic trial
The trial of Goran Hadzic, former prime minister of the Serb Autonomous Region Eastern Slavonia, went on mostly in closed sessions. In brief open sessions, the witness from the village of Opatovac near Vukovar described how she was taken to Sid in Serbia in October 1991. The witness testified under the pseudonym but without image distortion.
The witness had previously witnessed the troops enter Opatovac; they were followed by reservists who wore 'cockades, the Chetnik military insignia'. They treated the villagers roughly. The villagers were not allowed to lock their houses because the reservists wanted to be free to enter their homes 'at any time, day and night'.
When she arrived in Sid, two women in police uniforms took the witness to the basement. There the witness was ordered to take off her clothes to be checked for weapons. The prisoners had to sit on benches, with their heads down and their hands on the back, the witness recounted, adding that they were 'tortured and beaten with bats' in the basement.
From Sid the witness was taken to the Begejci farm, near Zrenjanin in Serbia. The farm was big, surrounded by a wire fence. There was a stable that had been turned into a make-shift prison and 'reservists' that guarded the location. The people in the stable lay on the ground with their heads covered up. The witness was taken to the back of the stable and was told to lie down next to a man so they could humiliate her. As the witness recounted, after the roll call in the morning the reservists would order them to run and would then hit them on their heads and backs. The detainees had to go to the forest to gather firewood; they were beaten there too.
During her stay in Begejci, the witness lost 16 kg and no one noticed that she was pregnant. Despite the fact that she was 'severely beaten' three times during her two months in Begejci, the witness finally gave birth to a healthy baby when she was released. Describing the beatings the witness said that sometimes 'I would soil myself, but after a few days, it would dry and everything would be fine'. The witness was exchanged on 10 December 1991. Many people asked the witness how she had managed to survive in the prison camp. The witness told them that 'a human being is stronger than any steel'.
In the cross-examination, Hadzic's defense counsel asked the witness about her 'active' membership in the Croatian Democratic Union. Goran Hadzic's trial continues on Tuesday with the testimony of a witness who will testify under the pseudonym GH 61.