Home
PROSECUTION: IF DEL PONTE IS GUILTY, KARADZIC IS GUILTY TOO
The prosecution contends that Carla del Ponte did not commit contempt of court when she discussed Milosevic's confidential witness list with US diplomats. If the specially appointed chamber concludes otherwise, the same procedure should apply to Karadzic and his defense team since they disclosed in public the cable with the purportedly confidential information on witnesses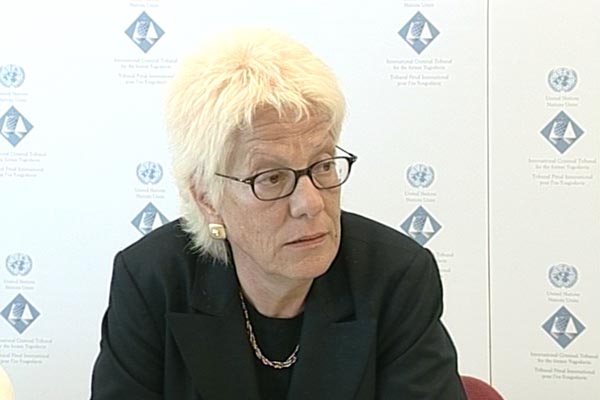 Carla Del Ponte
According to the prosecution, the allegations of the accused Radovan Karadzic that former chief prosecution Carla Del Ponte was in contempt of court were 'unfounded'. According to a cable published on the Wikileaks website, in April 2004 Del Ponte discussed the confidential witness list in Slobodan Milosevic's defense case with US officials.
The Tribunal's President Theodor Meron has appointed the Special Chamber to establish if there are grounds to initiate the proceedings. The prosecution contends that 'no investigation' is necessary. If, however the specially appointed chamber rules that an investigation should be launched, then the same procedure should apply to the accused, his legal advisor and other members of the defense team, the prosecution argued. In the annex to their motion, Karadzic's team disclosed the contents of the American embassy's cable with the purportedly confidential witness list.
On 13 April 2004, Milosevic filed his witness list as a confidential document, but the list was not protected by an order of the Trial Chamber, the prosecution notes. Also, none of the potential witnesses identified in the cable (President Clinton, Secretary of State Albright, Secretary Cohen and ambassadors Holbrooke and Hill) were under any protective measures that would mean their names should remain confidential.
In its interpretation of the Tribunal's Rules, the prosecution notes that if a document is filed as confidential, it does not mean that the document is indeed confidential. The accused Karadzic himself submitted a confidential witness list only to discuss the witnesses' identities in open session. Karadzic and his defense team are trying to 'blur' the difference between a confidential filing and a filing protected under the Trial Chamber's order, the prosecution concludes.
The motion also draws attention to the fact that Milosevic publicly disclosed his intention to call the US officials at least four times. Carla del Ponte 'simply disclosed' what the US administration would have learned anyway because they were expected to cooperate in securing the witness testimonies.
Interestingly enough, the prosecution has questioned the Tribunal's jurisdiction over possible contempt of court investigations. Invoking the Statute, the Rules of Procedure and Evidence and the Tribunal's jurisprudence, the prosecution has argued that after 1 July 2013 contempt of court cases fall under the jurisdiction of the Mechanism for International Criminal Tribunals, and not of the Tribunal.