Home
GENERAL KRSTIC CHARGED WITH CONTEMPT OF COURT
General Radislav Krstic once again refused to comply with the Trial Chamber's subpoena to testify at the trial of Radovan Karadzic and was charged with contempt of court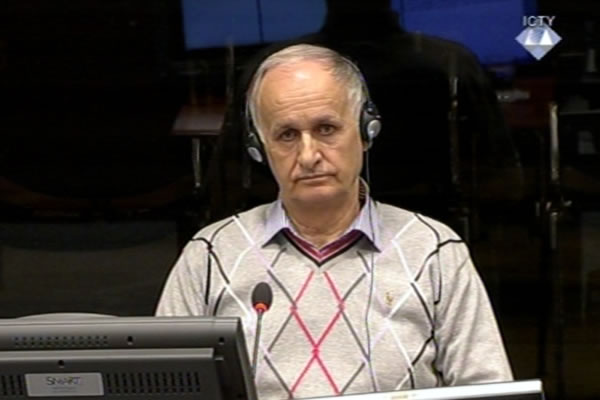 Radislav Krstic in the courtroom
Radislav Krstic, former VRS Drina Corps commander, was sentenced to 35 years for aiding and abetting the genocide in Srebrenica. Monday, Krstic was charged with contempt of court because he refused for the second time to comply with the Trial Chamber's subpoena compelling him to give evidence at the trial of Radovan Karadzic. In early February 2013, Krstic pleaded his ill health to justify his decision not to give evidence. Monday, Krstic said he still refused to testify because 'I cannot jeopardize my health'.
After Krstic refused to testify for the first time in February 2013, the judges asked for a detailed medical report on Krstic's physical and mental health. Based on the report, the judges concluded that giving evidence wouldn't jeopardize Krstic's health.
Before he asked Krstic for the last time if he wanted to testify, presiding judge Kwon asked him to state if he was fully aware of the consequences of refusing to comply with the subpoena. When Krstic confirmed it, the judge asked him once again if he was willing to testify. Krstic replied he wasn't.
The Trial Chamber issued the subpoena at Karadzic's request after Krstic refused to appear as a defense witness voluntarily. Karadzic tried to join the debate saying he wanted to ask three questions for the record, claiming that only this witness could give answers. The first question is if the two of them, Karadzic and Krstic, had planned to expel and kill the Muslim population in Srebrenica. The second question is if Karadzic had received reports about the killings of Muslim detainees. The judge interrupted Karadzic and prevented him from asking the third question.
The presiding judge then announced the Trial Chamber's decision regarding the contempt of court indictment. General Krstic will be able to enter his plea at a hearing which will be scheduled later.