Home
GENERAL KRSTIC PLEADS NOT GUILTY TO CONTEMPT OF COURT
The former commander of the VRS Drina Corps will stand trial before the Tribunal once again, this time for refusing to comply with a subpoena compelling him to give evidence in Radovan Karadzic's defense case. Krstic is serving his 35-year sentence for aiding and abetting the Srebrenica genocide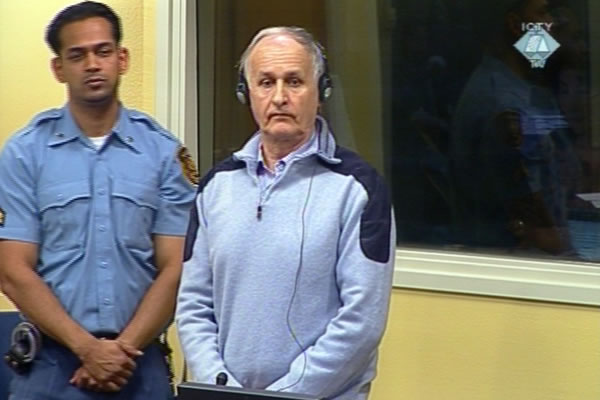 Radislav Krstic in the courtroom
General Radislav Krstic today pleaded not guilty to contempt of court. The Trial Chamber indicted Krstic after he failed to comply with the binding order to appear as a witness in Radovan Karadzic's defense case.
Before General Krstic entered his plea, he told Judge Melville Baird once again that he was determined not to testify at Karadzic's trial. 'It is only for health reasons that I am not able to participate in Mr. Karadzic's defense case at this trial', Krstic explained.
The trial date will be set later. The Trial Chamber intends to complete the case against Krstic as soon as possible, Judge Baird indicated. Krstic's defense counsel Tomislav Visnjic said that the defense might be ready to proceed to trial in a little more than a month.
General Krstic didn't have any complaints about the treatment and medical care he received in the UN Detention Unit in Scheveningen. The former VRS Drina Corps commander is serving his 35-year sentence for aiding and abetting the genocide in Srebrenica there.