Home
GENERAL RADISLAV KRSTIC TO APPEAR AGAIN BEFORE JUDGES
On Thursday, 4 April 2013, General Radislav Krstic will enter his plea on the indictment charging him with contempt of court. Krstic has refused to comply with the Tribunal's subpoena to appear as a witness at Radovan Karadzic's trial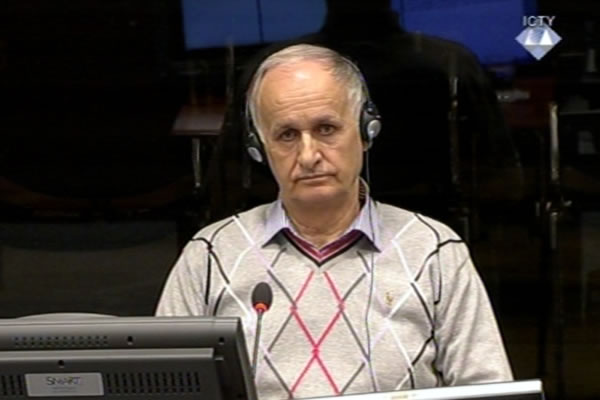 Radislav Krstic in the courtroom
The Trial Chamber hearing the case of Radovan Karadzic has issued an order in lieu of indictment against General Radislav Krstic. The former VRS officer is charged with contempt of court for refusing to comply with the subpoena to give evidence in the case of the former Republika Srpska president and the supreme commander of the RS armed forces. Pleading ill health, Krstic refused to testify twice, on 7 February and 25 March 2013, in spite of the Trial Chamber's warning that he could face contempt of court charges.
General Krstic's initial appearance before Judge Melville Baird is scheduled for Thursday, 4 April 2013. Krstic will be given an opportunity to enter his plea on the allegations in the order in lieu of indictment. The Trial Chamber that issued the indictment will sit in Krstic's case and will thus assume the prosecutor's role.
Radislav Krstic, former commander of the VRS Drina Corps, is serving his 35-year sentence for aiding and abetting the Srebrenica genocide. Earlier this week Krstic confirmed that he didn't want to testify at Karadzic's trial; he had already refused to testify once, in February 2013. On both occasions, Krstic pleaded ill health. Based on the additional medical report it requested in February 2013 the Trial Chamber concluded that testimony in court wouldn't damage Krstic's health. The Trial Chamber urged Krstic once again to testify but Krstic again declined.
It is interesting to note that Radislav Krstic is not the only VRS general who refused to obey his former supreme commander and did not want to testify in his defense. Karadzic had to resort to subpoenas to compel General Milenko Zivanovic, Krstic's predecessor at the post of the Drina Corps commander, and General Zdravko Tolimir, Mladic's former assistant for security and intelligence in the VRS Main Staff, to testify after they refused to do so at his request. The Trial Chamber has yet to rule on the subpoena motions filed by the former Republika Srpska president and the supreme commander of the RS armed forces. Radovan Karadzic is on trial for genocide and other crimes committed in Bosnia and Herzegovina.