Home
DJORDJEVIC CONFESSES HE HID BODIES, BUT PLAYS DOWN HIS RESPONSIBILITY
After he received the translation of the trial judgment, Serbian MUP general Vlastimir Djordjevic admitted he was responsible for burying the bodies of Kosovo Albanians in Batajnica. Djordjevic also admitted he knew the bodies had been found in the Perucac lake. However, Djordjevic denied he had the 'leading role' in the bid to cover-up the crime, claiming he 'was dragged into those terrible events at a later stage'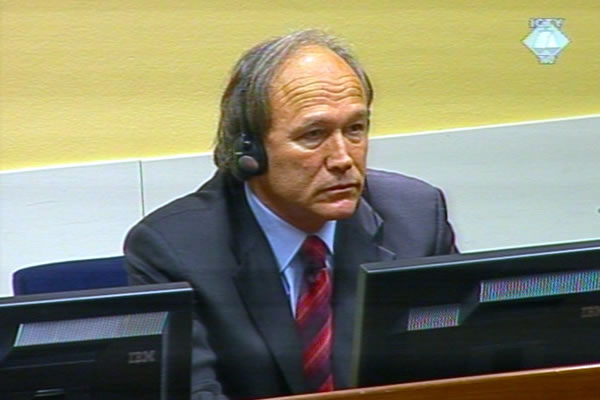 Vlastimir Djordjevic in the courtroom
Police general Vlastimir Djordjevic addressed today Judge Agius's Appeals Chamber with a brief in which he discusses the trial judgment. The Trial Chamber sentenced Djordjevic to 27 years in prison for crimes against Albanian civilians in Kosovo in 1999 and the burial of their bodies at several locations in Serbia. Djordjevic was granted leave to file a separate brief with his views of the judgment, after he received the translation into his language. His defense lawyers have already filed the appeal, calling for his acquittal.
After he read the judgment, General Djordjevic obviously realized that the findings against him were corroborated with consistent evidence and decided to accept part of the blame for the operation in which bodies were hidden in Serbia. As Djordjevic said, 'I admit I was involved in the effort to bury the bodies in Batajnica and I am sorry'. Djordjevic added, 'I admit that I knew' that some of the bodies had been hidden in the Perucac lake. The bodies of 744 Albanian civilians, including women and children, were exhumed in Batajnica; 84 bodies were discovered in the Perucac lake.
In his brief, General Djordjevic denied that he had the 'leading role' in the operation to hide the bodies, emphasizing 'I was dragged into those terrible events at a later stage'. Djordjevic claimed that he expressed his remorse several times during the trial and 'cannot understand why the Trial Chamber didn't take that fact into account'.
As General Djordjevic contends, the finding that he was a participant in the joint criminal enterprise aimed at expelling Albanians from Kosovo attributed to him the responsibility for each crime perpetrated in the province which was part of Serbia at the time. Djordjevic expressed 'a strong feeling' that his responsibility was 'severely overestimated'. Djordjevic also contends that the judgment was defective as it didn't take into consideration that crimes were committed in the context of the war between Serbia and NATO and constant clashes with the KLA.
Djordjevic drew a parallel with the recent judgment acquitting Croatian generals Gotovina and Markac. As Djordjevic said, he is 'frustrated' because in his case the judges found that the villages in Kosovo were shelled disproportionately and indiscriminately. In the Operation Storm judgment, a similar conclusion was reversed, although in Djordjevic's view, the Serbian army and police in Kosovo opened fire on legitimate targets: the KLA positions.
Djordjevic noted that as a 'lawyer by trade' he couldn't understand how he could at the same time be convicted of taking part in the joint criminal enterprise and of aiding and abetting crimes. Djordjevic also believes that he 'was marginalized' in Serbian police structures in charge of operations in Kosovo when crimes against Albanians were committed.
General Djordjevic will be back in court on Wednesday at a status conference in the appellate proceedings. Scheduling the appellate hearing in his case may be discussed at the conference.