Home
DJORDJEVIC'S APPEAL TO BE HEARD IN LATE 2012 OR EARLY 2013
The appellate hearing in the case against police general Vlastimir Djordjevic will most likely be held in late 2012 or early 2013, it was announced at a status conference. Djordjevic had no complaints about the conditions of his detention or health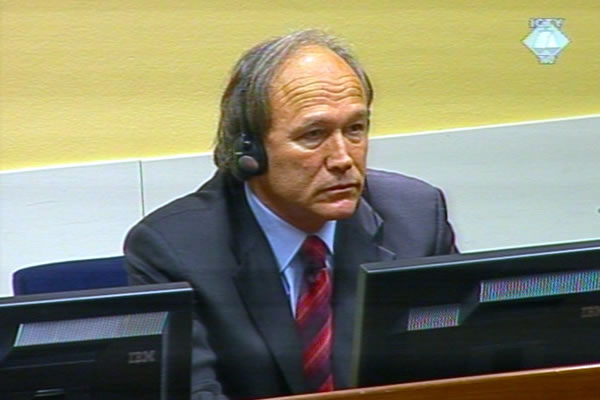 Vlastimir Djordjevic in the courtroom
A hearing on the appeals filed by the prosecution and police general Vlastimir Djordjevic's defense could be held in late 2012 or early 2013, it was announced at the fourth status conference in the appellate proceedings in his case.
In February 2011, the former deputy interior minister and chief of the Serbian MUP Public Security Department was sentenced to 27 years for his part in the joint criminal enterprise aimed at expelling hundreds of thousands and killing a large number of Albanian civilians in Kosovo in 1999. The Trial Chamber found that Djordjevic controlled the police forces responsible for the crimes and that he played an important part in the secret operation to transfer the victims' bodies from Kosovo to Serbia.
In 19 grounds of appeal, the defense asked the appellate judges to reverse the Trial Chamber's judgment and acquit Djordjevic or to impose a milder sentence. The prosecution presented two grounds of appeal, stating that the 27-year sentence didn't reflect the gravity of the crimes and called on the Appeals Chamber to convert the sentence to life imprisonment.
In answer to the presiding judge's questions, the accused Djordjevic said he had 'no health problems'. Neither the prosecution not the defense raised any issues.
Judge Carmel Agius led the status conference. He recalled that there had been some changes in the Appeals Chamber's composition. Judge Khalida Rachid Khan from Pakistan replaced Judge Fausto Pocar. Other members of the Appeals Chamber are judges Mehmet Guney, Liu Daqun and Andresia Vaz. Kyle Wood and Christine Dahl represented the prosecution, while lawyer Veljko Djurdjic appeared for the defense.