Home
GENERAL DJORDJEVIC IN GERMAN PRISON
Theodor Meron, president of the Mechanism for International Criminal Tribunals, has decided that the police general Vlastimir Djordjevic is to serve the rest of his 18-year sentence in Germany. Djordjevic was found guilty of crimes against Kosovo Albanians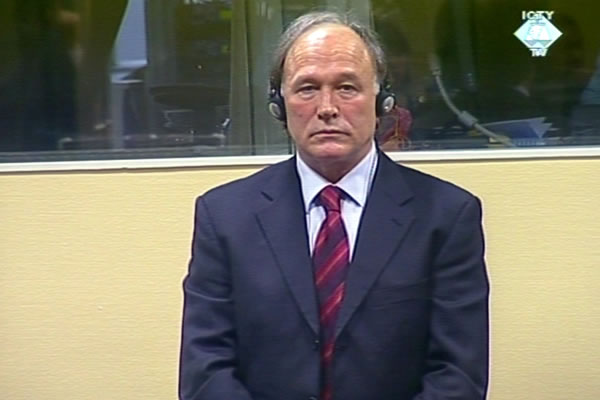 Vlastimir Djordjevic in the courtroom
Theodor Meron, president of the Mechanism for International Criminal Tribunals, has decided that the former chief of the Serbian MUP Public Security Department Vlastimir Rodja Djordjevic is to serve the rest of his sentence in Germany. The Mechanism has inherited the mandate of the Tribunal in The Hague. The decision was issued on 30 April 2014, but was under seal until now. This indicates that the Serb police general has already been transferred to a prison in Germany.
The Trial Chamber sentenced General Djordjevic to 27 years in prison for his involvement in the joint criminal enterprise aimed at expelling the Albanians from Kosovo in 1999. In January 2014, the Appeals Chamber confirmed Djordjevic's role in that enterprise and reduced his sentence to 18 years. Djordjevic has served more than seven years of the sentence. Given the usual practice whereby the persons convicted by the Tribunal are granted early release after serving two thirds of their sentence, this means that Djordjevic could get out of prison less than five years from now.
Bosnian Serb army general Stanislav Galic is also serving his sentence in a German prison. Galic was sentenced to life for the artillery and sniper terror campaign against the Sarajevo citizens. Dragoljub Kunarac, rapist from Foca, is also serving his 28-year sentence in Germany. Dusko Tadic and Johan Tarculovski both served their sentences in Germany, too. Tadic was sentenced to 20 years for crimes in Prijedor, and Tarculovski was sentenced to 12 years for the murder of Albanians and the destruction oftheir property in the village of Ljuboten in Macedonia.
A group of Serb political, military and police officials were tried separately for the same crimes against Kosovo Albanians. Former deputy prime minister of the federal government Nikola Sainovic got 18 years in prison, Yugoslav Army generals Nebojsa Pavkovic, Dragoljub Ojdanic and Vladimir Lazarevic were sentenced to 22, 15 and 14 years respectively. Police general Sreten Lukic was sentenced to 20 years. Ojdanic served his sentence in the Detention Unit in The Hague. Sainovic and Pavkovic have recently been moved to prisons in Sweden and Finland respectively.