Home
SEVEN WITNESSES IN THE FIRST SEGMENT OF RATKO MLADIC'S TRIAL
The prosecution has disclosed a revised list of witnesses who will testify in the first two weeks of the prosecution's case at the trial of Ratko Mladic, from 9 to 20 July 2012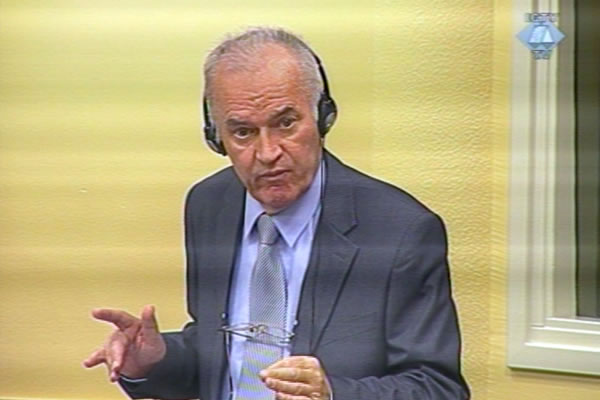 Ratko Mladic in the courtroon
The prosecution has submitted a list of witnesses it intends to call in the first two weeks of its case at the trial of the former VRS Main Staff commander Ratko Mladic, from 9 to 20 July 2012. Instead of 24 witnesses the prosecution initially planned to call in the first segment of its case, the court will hear evidence of seven prosecution witnesses before the Tribunal's summer recess.
The document disclosed today states that the prosecution has consulted with the defense and the defense still 'has some concerns' about its ability to prepare for the cross-examination of these witnesses following the most recent problems with the disclosure. The prosecution considers the defense's concerns 'justified' and will not oppose any defense motions to re-call witnesses for additional cross-examination.
The first prosecution witness is Elvedin Pasic. In November 1992, Pasic survived a massacre of about 150 persons in the village of Grabovica, in the municipality of Kotor Varos. He will be followed by David Harland, former chief of the civil affairs sector in the UN mission in Bosnia and Herzegovina. British general Richard Dannat will testify as a prosecution's military expert.
The second week of the prosecution's case will be dedicated to the crimes in Srebrenica. A survivor of the execution at the Branjevo farm will testify under the pseudonym RM 255. He will be followed by UN military observer Joseph Kingori and German nurse Christina Schmitz. Schmitz arrived in Srebrenica on 24 June 1995 and worked there until 21 July 1995 as part of the humanitarian organization Medecins sans frontiers. The last witness on the list is Eelco Koster, who served in the Dutch Battalion at the time. Koster will testify about the arrival of Muslim refugees in Potocari and his conversation with the accused Mladic who told him he intended to 'evacuate the refugees and there will be problems if the Dutch refuse to cooperate'.
The prosecution case will continue after the Tribunal's summer recess. Mladic is on trial for his part in four separate but interconnected joint criminal enterprises. The first joint criminal enterprise was the ethnic cleansing aimed at the forcible and permanent elimination of Croats and Muslims from large parts of BH in 1992. In some municipalities the cleansing campaign reached the scale of genocide. The rest of the charges pertain to the campaign of artillery and sniper terror against civilians in Sarajevo, taking UN staff hostage in May and June 1995, and the genocide in Srebrenica in July 1995.