Home
MLADIC'S MOTION TO POSTPONE EVIDENCE OF THREE WITNESSES DISMISSED
The Trial Chamber has denied the motion filed by General Mladic's defense to postpone the examination of witnesses Harland, Dannat and Kingori until "a later date". Mladic's motion to disqualify expert witness Dannat was also dismissed. The Trial Chamber decided it would evaluate Dannat's report and expertise after he completes his evidence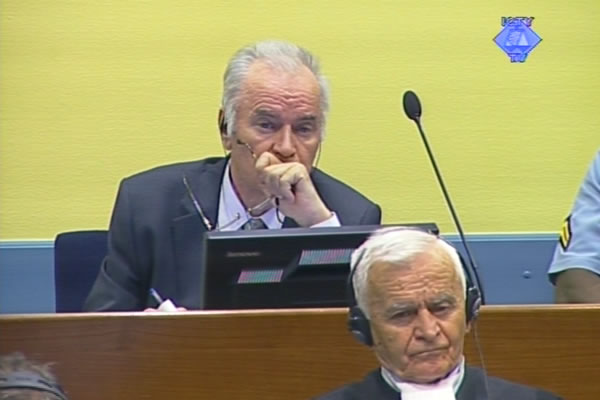 Ratko Mladic in the courtroom
The Trial Chamber led by the Dutch judge Orie has been plowing through the pending motions submitted by Ratko Mladic's defense to clear the ground for the prosecution case to begin as scheduled, on Monday, 9 July 2012. The Trial Chamber dismissed the defense's motion to postpone the evidence of three of the prosecution's first seven witnesses – former chief of the civil affairs in the UN mission in BH David Harland, British general Richard Dannat and UN military observer Joseph Kingori – until "a later date", after the Tribunal's summer recess.
In the motion submitted on 2 July 2012, the defense asked for a postponement of their testimony, stating that the prosecution had disclosed a lot of the evidence with delay. The defense also claimed that the Trial Chamber had not yet ruled on their objections to the motions seeking admission into evidence of the transcripts of previous witnesses' testimonies and related evidence. This has interfered with their preparations for the cross-examination of witnesses, the defense argued.
As the judges state in their decision, the fact that the Trial Chamber hasn't yet ruled on all the motions for the admission of statements and testimonies 'shouldn't affect preparations' of the defense for the examination of those witnesses. The defense should prepare for the cross-examination based on all the materials available to it.
As regards Harland and expert witness Dannat, the Trial Chamber reminded the defense that "they were proposed to be called to testify" since April 2012. The Trial Chamber also noted that less than 30 new documents pertaining to witnesses Harland and Kingori had been disclosed recently. The Chamber considers that "the information it has received from the parties does not show that the additional material is of such nature as to necessitate delaying the testimony and/or cross-examination of these witnesses'.
The defense has had access to most of the materials it needed to prepare for the examination of these witnesses since April 2012, the Trial Chamber said, emphasizing it would consider "any request by the defense to recall witnesses Harland And Kingori for further cross-examination". Finally, as the Trial Chamber noted, the defense has had Dannat's previous expert reports at its disposal since November 2011 and his current report since 24 April 2012.
The Trial Chamber also denied the motion to disqualify Richard Dannat as a prosecution military expert. The judges will decide if General Dannat qualifies as an expert and whether his report is admissible after Dannat completes his evidence at General Mladic's trial.