Home
MLADIC'S DEFENSE: TRIAL CHAMBER SUCCUMBED TO THE POLITICAL PRESSURE FROM THE PROSECUTION
In three 'urgent motions', Mladic's defense has accused the Trial Chamber that it had "succumbed to the political pressure from the prosecution". As the defense argues, the Trial Chamber has 'drastically changed the rules of the game at the eleventh hour', threatened the 'integrity of the trial' and created conditions that might 'lead to miscarriage of justice'. The defense has therefore called for another six-month postponement of the trial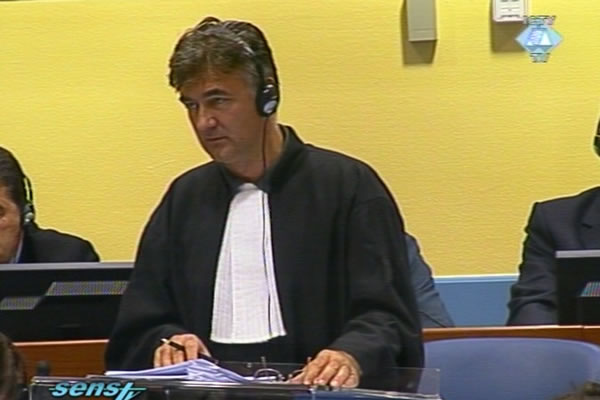 Branko Lukic, defence attorney of Ratko Mladic
Just as the prosecution was ready to begin presenting its evidence the defense of Ratko Mladic called for another 6-month postponement of the trial in an 'urgent motion'. Alternatively, the prosecution sought the Trial Chamber to reconsider its recent decision that partially changed guidelines for the parties to call and tender evidence.
In an 'urgent motion' that contains unusually harsh language, Mladic's defense accused the Trial Chamber that it had modified the guidelines because it had 'succumbed to the political pressure from the prosecution', 'changing the rules of the game drastically at the eleventh hour'. The Trial Chamber has thus, in the view of the defense, threatened the 'integrity of the trial' and the rights of the accused, creating conditions that might 'lead to miscarriage of justice'.
In addition to the request for another postponement or for a reconsideration of the changes, Mladic's defense filed two more urgent motions, claiming the rules of the game had been changed. The defense wants the cross-examination of British general Richard Dannat, called as the prosecution military expert, to be postponed by at least 90 days. The defense also wants the Trial Chamber to prohibit the prosecution from tendering through David Harland some documents not listed on the previously submitted list of exhibits.
At the beginning of the hearing today, prosecutor Dermot Groome announced the prosecution would respond orally to the 'urgent motions' tomorrow. The Trial Chamber ordered the prosecution to call its first witness, Elvedin Pasic, because the defense's objections and motions don't pertain to Pasic and his evidence.