Home
MLADIC'S DEFENSE WANTS THREE WITNESSES TO TESTIFY LATER THAN PLANNED
Lawyer Branko Lukic has asked the judges to postpone the testimony of David Harland, Richard Dannat and Joseph Kingori, or at least to postpone their cross-examination. Lukic has asked for the postponement because the prosecution was late disclosing a large volume of materials related to these witnesses and the Trial Chamber has yet to rule on the prosecution's motion seeking admission of witness statements and associated exhibits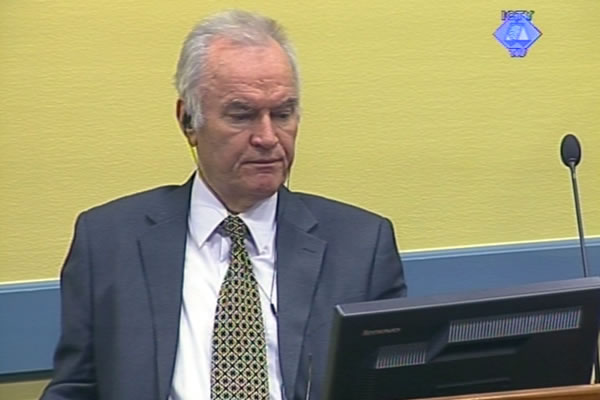 Ratko Mladic in the courtroom
The defense of the former VRS Main Staff commander Ratko Mladic has called for the testimonies of former UN civil affairs chief in BH David Harland, British general Richard Dannat and UN military observer Joseph Kingori to be delayed. Alternatively, the defense wants the cross-examination of these witnesses to be delayed. The prosecution has planned to call the three witnesses in the first two weeks of its case, from 9 to 20 July 2012.
The prosecution wants Harland, Dannat and Kingori to testify on the basis of their previous statements and transcripts of their earlier testimonies. The prosecution asked for these documents to be admitted into evidence. The Trial Chamber however has yet to decide on the admission as well as on the defense's objections. Mladic's defense counsel Branko Lukic notes that the Trial Chamber's decision would 'directly affect the manner and scope of preparations' for the defense's cross-examination of those witnesses and the length of their examination.
If Harland, Dannat and Kingori were to testify too early in the trial, this would violate the right of the accused to a fair trial, the defense argues, insisting again that it has not been given enough time to prepare for the cross-examination of these witnesses.
The defense is not opposed to nurse Christina Schmitz and former Dutch Battalion soldier Eelco Koster testifying in the first two weeks of the prosecution's case, as they are the last witnesses on the list. The defense nevertheless notes that even in their case, some relevant documents are among the recently disclosed materials. The defense does not object to the testimony of Elvedin Pasic and protected witness RM 255, the men who survived the massacre in the village of Grabovica near Kotor Varos in 1992 and at the Branjevo farm in July 1995, respectively.
In a letter to the Trial Chamber and the prosecution, the defense once again insists that it is 'unreasonable' for the prosecution to begin its case now. As the defense argues, an 'adjournment is necessary' to deal with some 'serious problems in the preparation' for the trial, stemming from the way in which the prosecution has disclosed the evidence.