Home
RATKO MLADIC TRIAL SUSPENDED 'UNTIL FURTHER NOTICE'
A brief press release this evening indicates that the start of presentation of the prosecution's evidence at the trial of Ratko Mladic was 'suspended until further notice'. The Trial Chamber's full decision and explanation will be made public in due course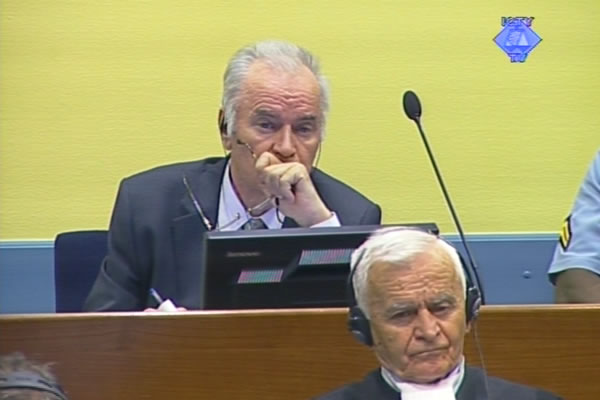 Ratko Mladic in the courtroom
Six days before 25 June, the date when the prosecution was supposed to start calling its evidence, it was announced by the Tribunal that the Judge Orie's Trial Chamber suspended the trial of the former VRS Main Staff commander Ratko Mladic 'until further notice'. The full decision and the explanation will be made public in due course, it was said. The Trial Chamber has clearly granted the motion filed by Mladic's defense to reconsider its decision of 24 May 2012, postponing the start of the prosecution's case for less than a month, from 29 May to 25 June 2012, instead of the six months the defense had requested.
The defense filed a motion asking the judges to reconsider their decision because of the delays in the disclosure of the prosecution's evidence; this delay has made it difficult for the defense to prepare for the cross-examination of prosecution witnesses. In its response, the prosecution admitted there still were problems with the disclosure of a number of documents. It didn't oppose the defense's motion.
It remains to be seen how long this suspension will last. In light of the fact that the Tribunal's summer recess is four weeks away, it is unlikely that the prosecution will begin its case before the second half of August 2012.