Home
PROSECUTION: PRALJAK MUST BE BROUGHT BACK TO DETENTION UNIT URGENTLY
The prosecution has appealed against the Trial Chamber's decision to put Slobodan Praljak under house arrest during his provisional release. The prosecution has asked the judges to bring the accused back to the Tribunal's Detention Unit 'urgently'. In light of the Registry's decision compelling the accused to pay back more than 3 million Euro to the Tribunal, Praljak cannot be trusted that he will not try to abscond, the prosecution contends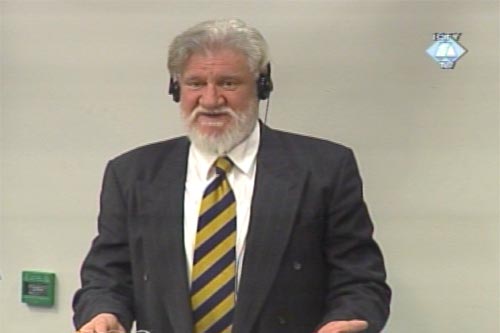 Slobodan Praljak in the courtroom
The prosecution urged the Appeals Chamber to revoke the Trial Chamber's decision extending Slobodan Praljak's provisional release and to order the accused to 'urgently' return to the Tribunal's Detention Unit. Praljak and other Herceg Bosna leaders are indicted for crimes in the Croatian-Muslim conflict in 1993 and 1994. In December 2011, all the accused were provisionally released, initially for a period of three months. The duration of the provisional release has been extended several times pending the Trial Chamber's judgment.
Three days ago the Trial Chamber tightened the conditions for Praljak's provisional release, ordering that he be placed under house arrest to 'neutralize the risk of escape' after the Registry decided that Praljak should pay back about 3,3 million Euro to the Tribunal. The amount was paid by the legal aid department to Praljak's defense team in the past eight years.
The prosecution contends that the judges' decision to extend Praljak's provisional release is 'unreasonable', and was taken without consulting either of the parties. Although the judges were correct when they concluded that the Registry's decision increased the risk of Praljak's absconding, the prosecution notes, they failed to give appropriate weight to new facts. The Chamber thus erred when it found that the house arrest could neutralize the risk of escape.
The prosecution recalls that Praljak faces serious accusations and possibly a long prison sentence. The Registry's recent decision exposed Praljak as a cheat who tried to hide from the Tribunal the value of his property. The Registry's investigators estimate Praljak is worth at least 6,5 million Euro. According to the prosecution, Praljak could withdraw money from his bank accounts in the former Yugoslavia and Germany, sell his remaining property and abscond in order to avoid a possible prison sentence and the obligation to pay the Tribunal the money he owes.
Praljak's behavior over the past years is indicative of a real 'pattern of untruthfulness', the prosecution contends. Praljak has been masquerading as a poor man, yet in the end it turned out he had been hiding his assets. Praljak 'cannot be trusted when he says he will not try to abscond', the prosecution claims.
The prosecution therefore urges the Appeals Chamber to reverse its decision which indicated that the house arrest could neutralize the risk of escape, to revoke the order on provisional release and to order that Praljak be returned immediately to the Tribunal's Detention Unit. The prosecution wants the Trial Chamber to consult the parties before deciding whether an accused may be provisionally released.