Home
PRALJAK ORDERED TO RETURN TO THE TRIBUNAL'S DETENTION UNIT
The Trial Chamber in the case against the former Herceg Bosna leaders ordered Slobodan Praljak to return 'immediately' to the UN Detention Unit; he has been provisionally released pending the judgment in his case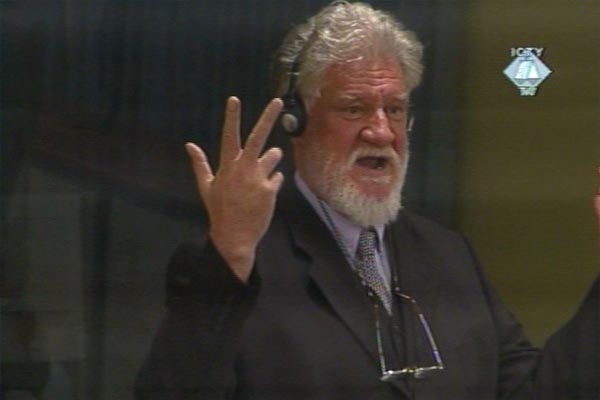 Slobodan Praljak in the courtroom
Today, the Trial Chamber revoked its decision for Slobodan Praljak's provisional release and ordered the accused to return to the UN Detention Unit. The Chamber reached this decision with a majority vote, with presiding judge Antonetti dissenting in part. Praljak was released provisionally in December 2012.
The issue of the extended provisional release of the accused was raised after the Registry last month found that Praljak owed 3.3 million euros to the Tribunal; this is the amount that has been paid from the legal aid fund for his defense, as Praljak claimed he was indigent. In an extensive investigation, the Registry valued Praljak's property at 6.5 million euros, a conservative estimate, and ordered him to pay back the money his defense team received.
After the Registry's decision the Trial Chamber decided on 23 August 2012 to tighten the conditions of Praljak's provisional release, ordering that he be put under house arrest in Zagreb to 'neutralize the risk of absconding'.
Praljak didn't appeal against the house arrest decision. In a confidential motion filed on 24 August, Praljak petitioned the Trial Chamber to extend the provisional release for another three months under the conditions set in November 2011, without the house arrest. Alternatively, if the Trial Chamber dismissed the request, Praljak asked the judges to order him to return to the UN Detention Unit in The Hague.
The prosecution opposed Praljak's request, urging the Trial Chamber to immediately end the provisional release of the accused. As the prosecution argued, after the Registry's decision, the accused had an additional motive to flee: not only to avoid a harsh sentence (the prosecution asked for 40 years in prison) but to avoid paying a significant amount he owed to the Tribunal.
In a decision disclosed today, the Trial Chamber notes that the accused wasn't able to show 'in any way' why the decision to tighten the conditions of his provisional release was wrong and failed to present any 'new facts' which could justify a review of the initial decision. The judges therefore contend there is no need to modify their decision of 23 August 2012.
Since Praljak had alternatively asked to be returned to the Tribunal's Detention Unit, the Trial Chamber decided to grant this request and end Praljak's provisional release. Praljak was ordered to return 'immediately' to the UN Detention Unit.