Home
HERCEG BOSNA JUDGMENT ON 29 MAY 2013
The Trial Chamber headed by the French judge Antonetti will hand down its judgment to the six former Herceg Bosnia leaders on 29 May 2013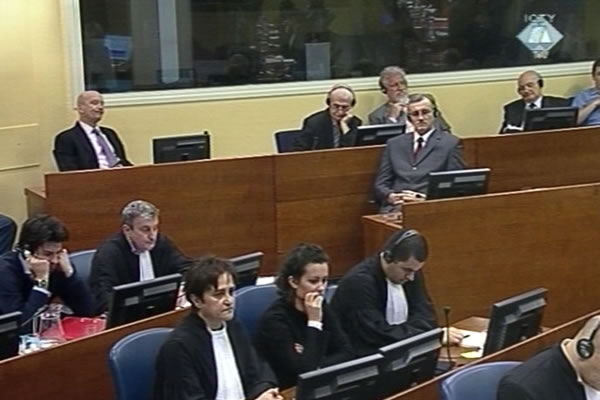 Jadranko Prlic, Milivoj Petkovic, Bruno Stojic, Slobodan Praljak, Valentin Coric i Berislav Pusic in the courtroom
The judgment to the six former Bosnian Croat leaders will be handed down on Wednesday, 29 May 2013 at 10 am. Former Herceg Bosna prime minister Jadranko Prlic, HVO commanders Slobodan Praljak and Milivoj Petkovic, Herceg Bosna defense minister Bruno Stojic, HVO military police commander Valentin Coric and Berislav Pusic, head of the HVO Prisoner Exchange Office, were indicted for the crimes against Bosniaks and other non-Croats from 1992 to 1994.
The indictment against the six former Herceg Bosna political and military leaders was issued in March 2004. All six accused surrendered voluntarily in April 2004 pleading not guilty to all 26 counts in the indictment. The prosecution alleged that the crimes were committed as part of the joint criminal enterprise headed by former Croatian president Franjo Tudjman and aimed at annexing Herceg Bosna to the Republic of Croatia.
The longest trial at the Tribunal began in April 2006 and ended in March 2011. A total of 206 witnesses were examined, with the prosecution calling 145 and the defense 61 witnesses. The prosecution has asked for long-term prison sentences for the accused: 40 years for Jadranko Prlic, Bruno Stojic, Slobodan Praljak and Milivoj Petkovic, 35 years for Valentin Coric and 25 for Berislav Pusic. The defense teams of all accused have called for their acquittal.