Home
PROSECUTOR: PECANAC'S DOCUMENTS 'VERY IMPORTANT'
The judges today granted the prosecutor's request to adjourn the trial of Zdravko Tolimir until Monday in order to have additional time to review the documents handed over by the witness Dragomir Pecanac because they are of 'great significance for Tolimir's case and other cases'. The entry on 14 July 1994 states that 'Blue knows what they did to the Turks'. The prosecutor alleges that Blue was code name of Momcilo Perisic, chief of the VJ General Staff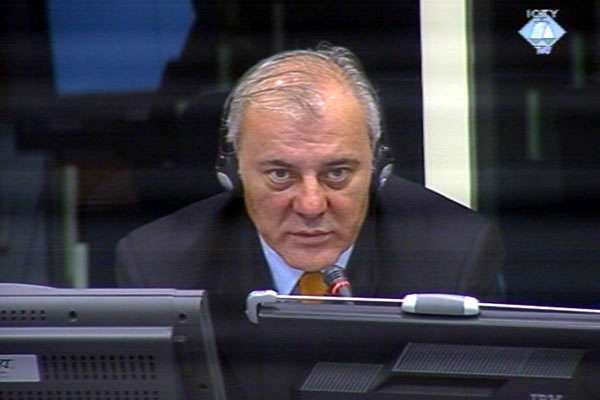 Dragomir Pecanac, witness at the Tolimir trial
The evidence of former intelligence officer in the VRS Main Staff Dragomir Pecanac at the trial of his former superior Zdravko Tolimir will continue on Monday. The prosecutor asked for additional time to prepare for the examination-in chief as he needs to review 'one or two notebooks' and other documents that Pecanac used yesterday in his testimony. Pecanac delivered the copies of the documents to the Tribunal.
After a quick look at the hand-written text, the prosecutor concluded that Pecanac's documents were of 'great significance' for his evidence, for 'Tolimir's case and other cases' before the Tribunal. The material comprises 'notes in a notebook, written down by senior officers' about the events that took place on 14 and 15 July 1995, the key dates for Tolimir's case. Mladic's former assistant for security and intelligence Zdravko Tolimir is charged with the crimes in Srebrenica and Zepa in the summer of 1995.
The prosecutor referred to the entry for 14 July 1995, from a meeting attended by Slobodan Milosevic, Ratko Mladic and others in Belgrade. The words of a person identified as M. P. are recorded in the entry. The prosecutor claimed this was Momcilo Perisic, former chief of the VJ General Staff. Perisic said, '[Carl] Bildt is coming, it has just been authorized, [Yasushi] Akashi and [Thorwald] Stoltenberg, the chief'. The entry goes on, 'Blue knows what they did to the Turks'. The prosecutor claims that Blue is Momcilo Perisic's code name.
Pecanac also handed over other documents in Cyrillic about the events between 14 and 16 July 1995. The documents were drafted by Tolimir's subordinate, Petar Salapura, chief of the Intelligence Directorate of the VRS Main Staff.
Arguing in favour of the postponement, the prosecutor noted that Pecanac 'came unwillingly' to The Hague and clearly said that 'at this trial and at the contempt of court trial, he testifies in the defense of General Tolimir and other VRS officers convicted of the same crimes'.
The accused objected, saying that the preparations for his case had already been interrupted several times and that in his view Pecanac could complete his evidence today. The judges disagreed.
The judge stressed that 'in order to ensure an expeditious trial' it would be good if Pecanac could complete his testimony by 23 January 2012, when Zdravko Tolimir is due to open his case.