Home
IS FLORENCE HARTMANN LATE PAYING HER FINE?
The Tribunal's Registrar informed the Appeals Chamber that French journalist Florence Hartmann hasn't paid the first installment of the fine on time. Hartmann was sentenced to a fine for contempt of court. The Support Committee to Florence Hartmann claims that the money has been deposited into a French bank account on time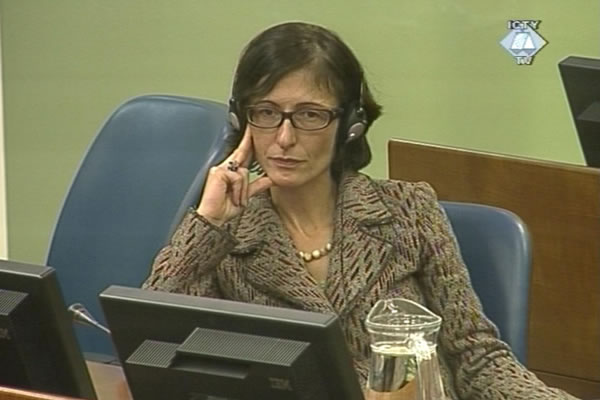 Florence Hartmann in the courtroom
The Registry of the Tribunal in The Hague informed the Appeals Chamber that the Tribunal's finance department hasn't yet received the first installment of the € 7,000 fine Florence Hartmann was to pay by 18 August 2011, following her contempt of court conviction.
On 19 July 2011, the Appeals Chamber confirmed the judgment, ruling that the French journalist and former OTP spokesperson was guilty of 'knowingly and deliberately disclosing the contents, alleged effects and confidential nature' of two decisions of the Appeals Chamber granting protective measures to the documents of the FR Yugoslavia's Supreme Defense Council. The documents were to be used in the Slobodan Milosevic trial. In the meantime the documents were made public but the Appeals Chamber ruled that it didn't affect Hartmann's culpability. The judgment also dismissed the defense's argument that the Trial Chamber violated freedom of speech stating that the 'restriction of freedom of speech was necessary' to protect 'public order and prevent the disclosure of confidential information'.
The document signed today by the Tribunal's deputy registrar recalls that in its judgment the Appeals Chamber dismissed all grounds of appeal. Hartmann was supposed to pay her fine in two installments of €3,500 each. The first payment was to be made by 18 August and the second installment is due on 19 September 2011.
On the other hand, a press release issued by a group of organizations and individuals who support Florence Hartmann notes that 'thanks to the generosity of a number of individuals, funds to pay for that fine have been assembled on time". The release goes on to say that Florence Hartmann informed the Tribunal's president on 16 August 2011 that €3,500 had been deposited into the bank account of the "Support Committee for Florence Hartmann" in a French bank, to cover the first installment of the fine, and the details of the account where the amount is deposited have also been given to the Tribunal.