Home
KABASHI SENTENCED TO TWO MONTHS IN PRISON
Shefqet Kabashi, former KLA soldier, has been sentenced to two months in prison for contempt of court. 'By contumaciously refusing to answer questions of the prosecution', the judgment noted, Kabashi 'deprived' the Trial Chamber of the evidence relevant for the 'ascertainment of the truth' in the case against former KLA commanders Haradinaj, Balaj and Brahimaj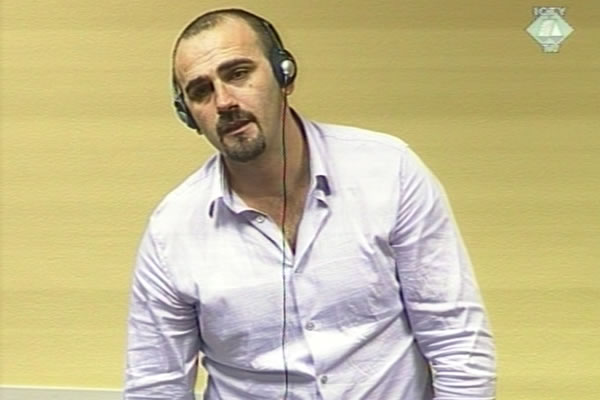 Shefqet Kabashi in the courtroom
Former Kosovo Liberation Army soldier Shefqet Kabashi has been sentenced to two months in prison for contempt of court. On 26 August 2011, Kabashi pleaded guilty to 'knowingly and willfully' interfering with the administration of justice when he refused to answer the prosecutor's questions in June and November 2007 at the trial of former KLA commanders Ramush Haradinaj, Idriz Balaj and Lahi Brahimaj. The Trial Chamber accepted Kabashi's guilty plea on 31 August 2011.
Presenting the reasoning behind the judgment, presiding judge Alphons Orie noted thatKabashi 'contumaciously refused to answer questions of the prosecutor' thus 'depriving' the Trial Chamber of the evidence relevant to 'the ascertainment of the truth' in the case against the former KLA commanders charged with crimes against Kosovo Albanians, Roma and Serbs in 1998.
In determining the sentence, the judges didn't give any weight to the defense's claims that 'Kabashi's frustrations, war experience and intimidation of witnesses' may have contributed to his refusal to answer questions. The Trial Chamber did accept the claim that Kabashi suffered from post-traumatic stress disorder, that his condition had worsened in prison and that he had apologized for what he had done. The judges felt Kabashi's apology was genuine but nevertheless gave more weight to the fact that he had been on the run for more than four years.
The 31 days Kabashi has already spent in the UN Detention Unit will be credited against his sentence. Kabashi was arrested on 18 August 2011 when he arrived in Holland to appear as the first prosecution witness at the partial re-trial of the former KLA commanders for crimes in the Jablanica prison in 1998. Kabashi yet again refused to answer the parties' questions and the Trial Chamber ordered the prosecution to check if there were grounds to charge Kabashi once again with contempt of court. The prosecution has until today to respond.