Home
SHEFQET KABASHI POSTPONES HIS PLEA
Former KLA soldier Shefqet Kabashi decided to postpone entering his plea. As he explained, he hasn't yet read the indictment. Kabashi is on trial for contempt of court for refusing to testify in the Hardinaj et al. case. He is now scheduled to re-appear before the court next Friday. In the meantime, there will be a new attempt to make him testify about the KLA crimes in Jablanica. Kabashi talked about them in his statements to the OTP investigators but refused to repeat his claims in court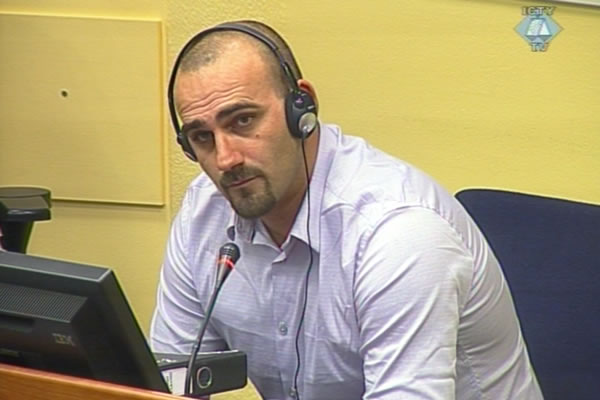 Shefqet Kabashi in the courtroom
At his initial appearance before the court, former KLA soldier Shefqet Kabashi today exercised his right to postpone his plea on the charges of contempt of court. He was indicted for refusing to testify in the case of Ramush Haradinaj, Idriz Balaj and Lahi Brahimaj. As the accused explained, he hasn't yet read the indictment which he received yesterday. He has been told about the charges against him by his appointed counsel Michael Karnavas.
Presiding judge Orie read the summary of the indictment. Kabashi is charged with contempt of court in two counts. The first count alleges that the accused 'willfully failed to refuse to answer questions' when he gave evidence at the trial of Haradinaj, Balaj and Brahimaj at the Tribunal in The Hague in June 2007. The second count deals with the same offence, but this time the witness refused to answer questions in November 2007, via video link from the USA. Kabashi is a US citizen.
Kabashi has ten days to enter his plea. The presiding judge Orie scheduled his second appearance for Friday afternoon. The accused will remain in the Tribunal's Detention Unit, where he arrived yesterday, following his arrest at the Amsterdam Airport on Wednesday. He was arrested as soon as he arrived from the USA.
In the meantime, there should be another attempt to make Kabashi testify at the partial re-trial of Haradinaj, Balaj and Brahimaj, but his defense counsel Karnavas filed a request today to postpone the testimony until Monday. As Karnavas explained, the Dutch authorities took a long time to complete the requisite procedure following Kabashi's arrest and as a result, he was transferred to the Detention Unit a day later that he was supposed to be. The accused was therefore unable to prepare for the testimony which could affect the outcome of his contempt of court trial.
The former KLA leaders are to be re-tried because the Appeals Chamber found that the original trial had been completed prematurely, before two prosecution witnesses were heard: Shefqet Kabashi and a protected witness under the pseudonym X. In his statement to the OTP investigator, Kabashi provided details corroborating the prosecution's allegations that the accused were responsible for the crimes in the KLA prison in Jablanica, but then he refused to repeat his claims in the courtroom. Kabashi said that some of the witnesses had been killed in Kosovo and that the Tribunal's protective measures did not have any weight in reality. As Kabashi put it, protective measures 'do not exist really, only in courtroom'. It remains to see if this time Kabashi will again refuse to testify this afternoon or on Monday, if Karnavas's request is granted.