Home
SHEFQET KABASHI JUDGMENT TO BE HANDED DOWN ON 16 SEPTEMBER
The Trial Chamber hearing the case of former KLA member Shefqet Kabashi will hand down its judgment in the afternoon on 16 September 2011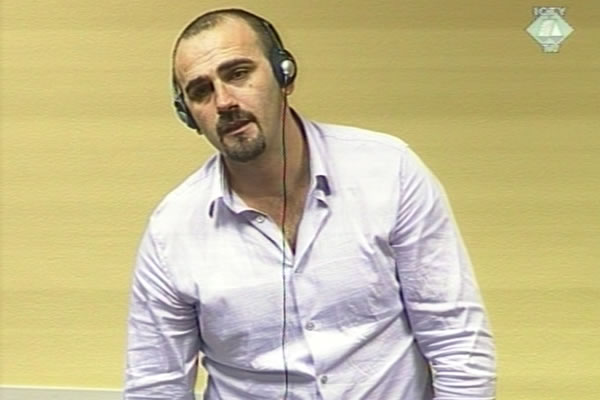 Shefqet Kabashi in the courtroom
Shefqet Kabashi will receive his judgment on contempt of court charges on 16 September 2011 in the afternoon. He was charged with contempt of court because he refused to answer the prosecutor's questions at the trial of former KLA members Ramush Haradinaj, Idriz Balaj and Lahi Brahimaj.
Last week, Kabashi, who is a former member of the Kosovo Liberation Army, pleaded guilty to the charges against him. The judges concluded that his plea was informed, not equivocal and was made voluntarily. There was also a sufficient factual basis allowing the judges to conclude that the accused had committed the offense he was charged with. Under the Rules of Procedure and Evidence, these conditions have to be met in order for the guilty plea to be accepted.
At the end of the sentencing hearing, the prosecution asked the Trial Chamber to impose a 'prison sentence that will correspond to the gravity of the crime'. The defense called for a prison sentence not longer than three weeks. According to Kabashi's defense counsel Michael Karnavas, this would allow Kabashi to leave the UN Detention Unit immediately. Kabashi has been in custody since 18 August 2011 when he was arrested at the Amsterdam airport following his arrival from the USA, where he currently resides.
There was a discussion in court today whether Kabashi 'refused' to reply to the prosecutor in June and November 2007 or 'was not able' to give answers. Defense counsel Karnavas reminded the Trial Chamber that Kabashi was unhappy because he had received threats after his testimony as a protected witness at the trial of Fatmir Limaj and other KLA members. Karnavas quoted Kabashi's statement from June 2007 when he said that 'protective measures do not exist in real life, only in the courtroom'. The defense counsel insisted that the accused was not happy with the prosecutor's attitude towards the information he had provided and that he was worried for safety of his family in Kosovo.
The accused Kabashi said, 'I apologize for the problems I have caused since 2007'; he also apologized for the fact that his testimony 'was not as useful as it could and should have been'. Last week, Kabashi appeared as a witness at the partial re-trial of Haradinaj et al. as the first prosecution witness, only to state once again that he is 'unable' to answer the prosecutor's questions. At the end of the hearing today, Kabashi said that he would 'respect the Tribunal's decision despite my strong desire to return to my family in the US as soon as possible', where he has sought asylum.