Home
RICHARD BUTLER TESTIFIES FOR THE FIFTH TIME
Prosecution military expert began his evidence at the trial of Zdravko Tolimir. As the prosecutor indicated, the witness would talk in particular about the position and the role of officers in the VRS Main Staff. General Tolimir, charged with genocide and other crimes in Srebrenica and Zepa, was Mladic's assistant for security and intelligence in the VRS Main Staff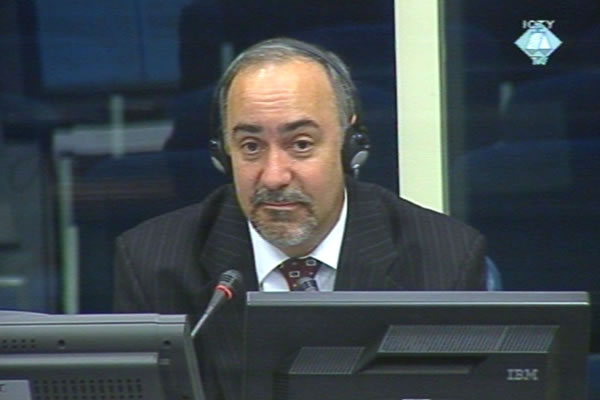 Richard Butler, witness at the Zdravko Tolimir trial
After investigator Dusan Janc completed his evidence at the trial of Zdravko Tolimir, the prosecution called its military expert Richard Butler. He is now an intelligence officer in the US National Security Agency. Until November 2003, Butler was one of the prosecution analysts who investigated war crimes in the former Yugoslavia.
Butler was particularly involved in the Srebrenica investigation and wrote two expert reports on it. The first report was completed in 2000 for the trial of General Radislav Krstic, former commander of the VRS Drina Corps. The report focused on defining the position and role of corps officers in the Bosnian Serb army. The report was amended and adapted for the second trial for the Srebrenica crimes in 2003. Former commander of the Bratunac Brigade Vidoje Blagojevic and officer of the engineering unit of the Zvornik Brigade Dragan Jokic were in the dock. Butler again analyzed the position and role of VRS officers, but this time at the level of a brigade.
Butler wrote his second report in 2007 for the trial of the seven Bosnian Serb military and police officers, when he was asked to focus on the position and role of officers in the VRS Main Staff. In both reports, Butler noted that the Bosnian Serb army was modeled on the former JNA. The legislation on the armed forces in Republika Srpska was in fact the same as the former SFRY legislation. The VRS adopted the same chain of command and defined the responsibilities and powers of officers along the same lines.
In his reports, the military analyst used the Rules of Service and operating manuals of the JNA units that served as a basis for the RS military legislation. The documents that came in from the VRS units during the Srebrenica investigation as well as statements of witnesses, former Bosnian Serb army officers, confirmed that Butler's approach to the analysis of the command structure and functioning of the VRS was spot-on.
The last time Butler updated and amended his existing reports was in April 2010, and he resumed his efforts in the past two weeks as he was preparing in The Hague for his evidence at the Tolimir trial. Butler supplemented his last report and its annexes – documents, photos, aerial shots and transcripts of intercepted conversations – with new information he had been able to collect in the meantime. Today Butler said that he amended the data about the Bosniak detainees who were treated in the hospital in Milici and were later transferred to the Zvornik area, where they disappeared without a trace.
Richard Butler's evidence is expected to last some days and will continue tomorrow.