Home
TOLIMIR "DEFENDS" NIKOLIC
The accused general Zdravko Tolimir dedicated the first day of his cross-examination of Momir Nikolic to the defense of the position and role of security and intelligence officers in the VRS units. The prosecution has 'blamed' Nikolic and other security officers 'for many things they are not responsible for', Tolimir contends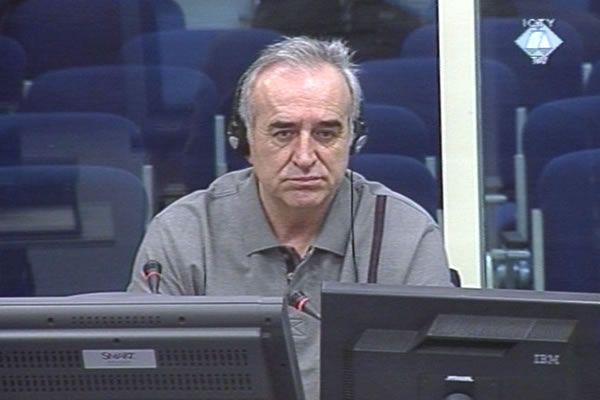 Momir Nikolic, witness at the Zdravko Tolimir trial
The accused general Zdravko Tolimir began his cross-examination of Momir Nikolic, former security officer in the VRS Bratunac Brigade, with a series of questions about the causes of Yugoslavia's break-up. Tolimir suggested to Nikolic that break-up was caused by 'external influences'. Addressing his former superior from the VRS Main Staff as 'general' and 'sir', Nikolic agreed with Tolimir that Serbs and Muslims could have gone on living in harmony in Bratunac had it not been for the 'external influences'.
In July 1995, Tolimir was Mladic's assistant for intelligence and security in the VRS Main Staff. Nikolic was in charge of intelligence and security in the Bratunac Brigade. Nikolic faced trial for genocide and other crimes in Srebrenica and Tolimir is on trial for Srebrenica and Zepa. In 2003, Nikolic pleaded guilty to persecution. According to the plea agreement, the prosecution dropped all other charges. Nikolic came to the Tribunal to testify at the Tolimir trial from Finland, where he is currently serving his 20-year sentence.
The accused general spent most of his time today on an effort to define the position, role and powers of security officers at all levels, from the battalion to the Main Staff. Quoting from the VRS Rules of Service, Tolimir tried to prove that security officers in the Bosnian Serb army were not authorized to command and issue orders. According to Tolimir, only unit commanders could do that. Nikolic testified about the issue in his examination-in chief and for the most part agreed with Tolimir's quotes from the Rules of Service. This prompted the presiding judge to tell the accused that the documents he quoted had already been admitted into evidence and the judges could read them for themselves. The presiding judge warned the accused that he might consider the point of this line of questioning.
Although Tolimir accepted the suggestion of the presiding judge, he explained that he did it not for his own sake, but for Momir Nikolic's. As Tolimir put it, 'Nikolic has been blamed for many things he is not responsible for'. Judge Fluegge then reminded him that Nikolic was not on trial. Tolimir then asked the witness directly why he assumed responsibility for all the actions in the brigade, 'when he was nothing but an intelligence and security officer'.
'I accepted the part of responsibility I believe is mine', Nikolic replied. The military police in the Bratunac Brigade took part in the Srebrenica operation and they were under his jurisdiction, he said. As the chief of intelligence and security in the Bratunac Brigade, Nikolic felt he was responsible for their actions.
The accused general Tolimir continues his cross-examination of Momir Nikolic on Monday.