Home
RULES OF THE ROAD: NO GROUNDS FOR PROSECUTION OF GENERAL DIVJAK
Under the 1996 Rome Agreement, in 2003 the Tribunal's prosecutors were asked by the Republika Srpska authorities to inspect the evidence supporting the allegations that General Divjak committed war crimes against prisoners of war. The OTP decided there was no prima facie case against General Jovan Divjak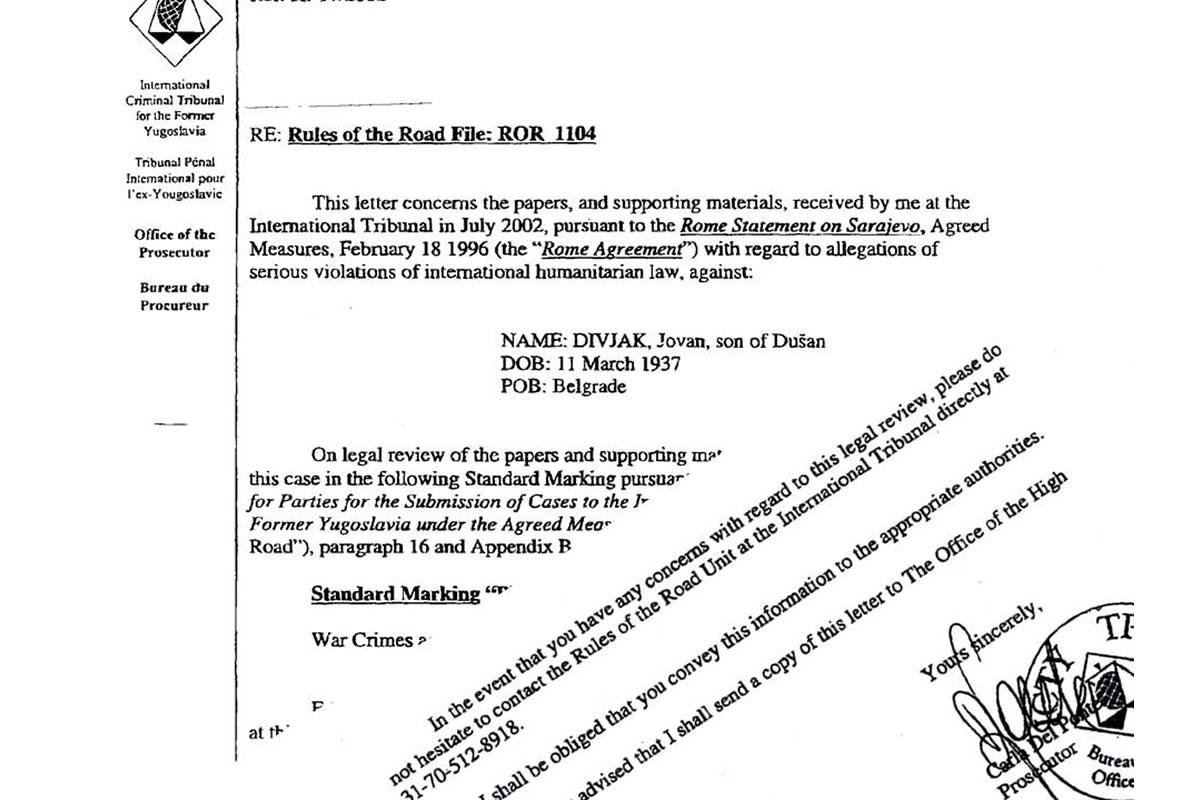 Fascimile of the ICTY document
Retired BH Army general Jovan Divjak – arrested yesterday at the Vienna airport – is one of the 719 persons whose war files were inspected by the OTP in The Hague at the request of the Republika Srpska authorities. Having inspected the evidence in July 2003, the Tribunal decided that "the evidence is insufficient by international standards to provide reasonable grounds for the belief that Divjak Jovan, son of Dusan may have committed serious violations of international humanitarian law".
The 1996 Rome Agreement established the so-called Rules of the Road to prevent politically motivated arrests and prosecutions in BH. Under the Rules, the judiciary in the BH Federation and the Republika Srpska could prosecute only those war crimes suspects who had been green-lit by the OTP. The prosecutors in The Hague analyzed all the files to check whether there was a prima facie case against any of the suspects.
In the eight years of the implementation of the Rules of the Road, the OTP in The Hague examined a total of 5,908 files submitted by BH. The Bosniak side submitted most of the files – 3,792. Bosnian Croats submitted 1,396 cases in which investigations were launched and the Serb side sought a green light for the prosecution of 719 persons.
Having inspected the evidence, the OTP in The Hague marked 865 files with an 'A', green-lighting the prosecution. A total of 2,375 cases were given a 'B', indicating there was no prima facie case; General Divjak's file was among them. Finally, 691 cases submitted for review under the Rules of the Road were marked 'C', indicating that additional enquiries must be made.
Since 2004, the procedure established under the Rules of the Road has been under the jurisdiction of a special service operating within the BH State Prosecutor's Office.
Photos