Home
TRANSCRIPTS OF DEAD PENITENTS' TESTIMONY ADMITTED INTO EVIDENCE
In the case against the Serbian Radical Party leader Vojislav Seselj, the Trial Chamber decides to partially grant the prosecution motion and admits into evidence parts of the testimony Milan Babic gave at the Slobodan Milosevic trial. At the trial of Jovica Stanisic and Franko Simatovic, the statement and transcripts of Milan Deronjic's evidence at the trials of Slobodan Milosevic and Momcilo Krajisnik were also admitted into evidence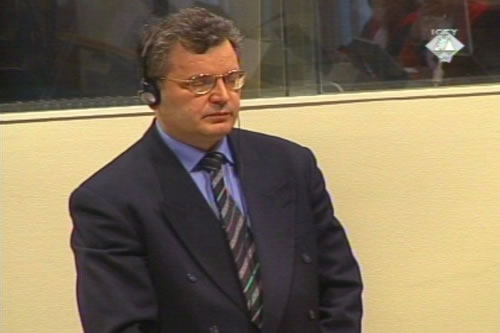 Milan Babic in the courtroom
At the trial of the Serbian Radical Party leader Vojislav Seselj for crimes in Vojvodina, Croatia and Bosnia and Herzegovina, the Trial Chamber decided to partially grant the prosecution motion and admit into evidence parts of the testimony Milan Babic gave at the Slobodan Milosevic trial. Babic, former president of the self-proclaimed Republic of Serbian Krajina, pleaded guilty to the crime of persecution and was sentenced to 13 years in prison. In March 2006, he committed suicide in his cell in the Tribunal's Detention Unit.
The prosecution filed the first motion seeking admission into evidence of the testimony of 'unavailable witnesses' under Rule 92 quarter more than three years ago. In the first motion, the prosecution sought to tender into evidence not only Babic's testimony at the Milosevic trial, but also parts of his evidence at the trials of Momcilo Krajisnik and Milan Martic. Seselj violently opposed to the motion, claiming that Babic 'judged himself' and that the admission into evidence of the testimony of witnesses who could not be cross-examined 'violates the fairness of the trial'.
In 2008, the Chamber dismissed the first prosecution motion on the grounds that it ran 'counter to the interests of justice', because the documents whose admission was sought 'directly accuse' Seselj. In 2009, the prosecution asked for a review of the decision, noting that Babic's evidence at the Milosevic trial had in the meantime been confirmed by other witnesses heard after January 2008. The judges saw this as a new fact which allowed them to review the earlier decision.
The Chamber accepted the prosecution's argument that Babic's evidence concerned topics that are relevant for the case: the establishment of parallel chains of command in Krajina involving the Serbian MUP, Serbian state security service and the Krajina police, the arming and funding of the Krajina Serbs, provoking the Croats in order to justify JNA response, and the expulsion of non-Serbs from the occupied parts of Croatia. Some twenty excerpts from Babic's evidence in the Milosevic case were admitted into evidence, as were documents about the establishment of the Krajina Serb army, the illegal arming of Serbs in Krajina, establishment of the Territorial Defense and the implementation of the joint criminal enterprise.
At the trial of two former Serbian state security service chiefs, Jovica Stanisic and Franko Simatovic, the Trial Chamber invoked the same rule to admit into evidence the statement and transcript of evidence of yet another 'unavailable witness', local SDS president in Bratunac, Miroslav Deronjic. At the prosecution's request, the Chamber admitted into evidence the transcripts of his testimony at the trial of Slobodan Milosevic in November 2003, and of Momcilo Krajisnik, in February 2004. Deronjic pleaded guilty before the Tribunal to murders and deportations of civilians from Glogova near Bratunac, and was sentenced to ten years in prison. He died in May 2005 as he was serving his sentence in a Swedish prison.
Photos