Home
NEW JUDGES FOR FLORENCE HARTMANN AND VOJISLAV SESELJ
Judges Agius and Orie sitting in the Special Chamber hearing the case against the French journalist for contempt of court will be replaced by two Appeals Chamber judges, Guney and Daqun. Judge Agius has recused himself from the Trial Chamber hearing the contempt of court case against the Serbian Radical Party leader for disclosing the identity of protected witnesses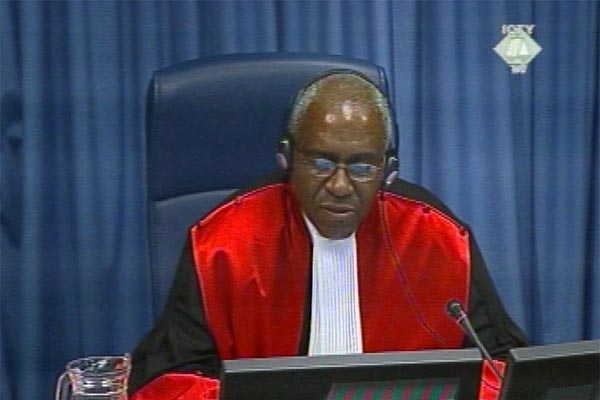 Patrick Robinson, president of the Tribunal
ICTY president Patrick Robinson accepted the recommendation of the panel of three judges to replace Judge Alphons Orie and Judge Carmel Agius from the Special Chamber hearing the contempt of court case against French journalist Florence Hartmann. Apart from South African judge Bakone Moloto, the Special Chamber will consist of two judges of the Appeals Chamber, Mehmet Guney from Turkey and Liu Daqun from China.
In their recommendation to the Tribunal's president the three judges of the panel rejected the defense allegations that the Special Chamber was 'partial'. They did however conclude that the involvement of the judges in directing the investigation against the French journalist 'went beyond the issuing of general and purely administrative instructions'. This, the panel ruled, resulted in the 'exceptional circumstances' warranting the assignation of the case to a different chamber.
Florence Hartmann has been indicted for disclosing the information on two decisions of the Appeals Chamber in the Slobodan Milosevic case in her book
Peace and Punishment
and in an article for the Bosnian Institute. The Appeal Chamber's decisions granted the confidential status to the documents from the then FRY's Supreme Defense Council issued during the conflict in Croatia and BH
The chamber hearing the contempt of court case against Vojislav Seselj, leader of the Serbian Radical Party, has also been changed. Seselj, charged with disclosing the identity and evidence of protected witnesses, last week called for the disqualification of Maltese judge Carmel Agius. However, before the president had the chance to consider the motion Judge Agius himself asked to be withdrawn from that and all other contempt of court cases that may be instituted against Seselj.
Judge Agius made it clear that 'his continued presence in the case would not be conducive to the smooth and expedited process and might be misunderstood given his role during the pre-trial phase" of the case of the Serbian Radical Party leader. The ICTY president appointed Scottish judge Bonomy to replace Judge Agius. Bonomy and Seselj have already met when Seselj was testifying in the defense of Slobodan Milosevic. Other members of the Trial Chamber sitting in Seselj's contempt of court case are Judge Kwon from Korea and Judge Kevin Parker from Australia.