Home
PREPARATIONS FOR TRIAL OF FORMER KLA COMMANDERS PROCEED APACE
Judge Bakone Moloto ordered the prosecution to submit its pre-trial brief and witness and exhibits list by the end of November 2010. The defense is expected to submit its briefs two weeks later. Preparations for the beginning of the trial should be completed by the end of 2010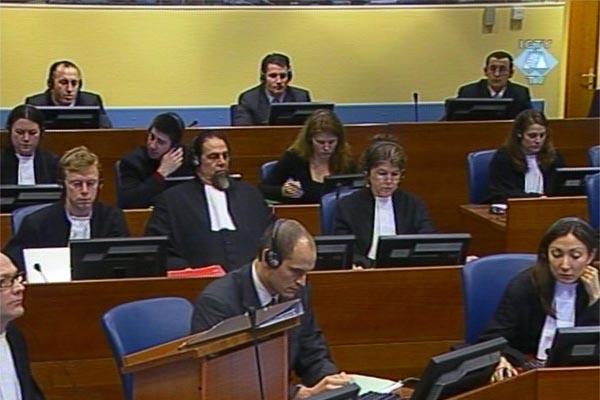 Ramush Haradinaj, Idriz Balaj i Lahi Brahimaj u sudnici Tribunala zadnjeg dana suđenja
As indicated at the status conference today, the preparations for a partial re-trial of former KLA leaders Ramush Haradinaj, Idriz Balaj and Lahi Brahimaj should be completed by the end of 2010. It is still not clear how the trial will proceed and how many witnesses the prosecution intends to call.
Haradinaj's defense has proposed that all the evidence called in the first trial of the three accused be admitted into evidence; in the course of the re-trial, the court should hear the evidence of just two witnesses who caused the Appeals Chamber to order a partial re-trial. The defense teams of the other two accused has agreed with the proposal to 'keep the focus of the re-trial on the same issues as in the appellate judgment': the evidence of the two controversial witnesses. The prosecution is not yet sure how many witnesses it intends to call, noting that the number will depend on the issues covered by the agreed facts. The two parties have to reach an agreement as to that by 18 November 2010.
Haradinaj and Balaj were acquitted on all 37 counts in the indictment charging them with crimes against Albanians, Serbs and Roma in Kosovo in 1998. Brahimaj was sentenced to six years for the crimes in the KLA camp in Jablanica. The Appeals Chamber revoked the judgment and ordered a re-trial on six counts in the indictment, for crimes in Jablanica. As the Appeals Chamber found, the prosecution should not have been ordered to rest its case before the court heard testimony of two unwilling witnesses, former KLA member Shefqet Kabashi and a prisoner in the Jablanica camp whose identity is protected.
Judge Bakone Moloto consulted both parties and today ordered the prosecution to submit a new, abridged indictment against the former KLA commanders by 28 October 2010, and then to provide a witness and exhibits list and its pre-trial brief by the end of November 2010. The defense teams should file their pre-trial briefs two weeks later, by 14 December 2010.
At the status conference today, all three accused sat in the dock, for the first time after the Trial Chamber delivered its judgment, because Idriz Balaj joined the other two in the courtroom. Balaj has been serving a sentence for other war crimes in a Kosovo prison. Haradinaj and Brahimaj were arrested on the Tribunal's order and transferred to the Detention Unit in The Hague immediately before the Appeals Chamber delivered its judgment in July 2010.
Next status conference will be held on Tuesday, 26 October 2010.