Home
CURFEW 'IN PRINCIPLE' AND 'IN PRACTICE'
The curfew in Doboj 'applied to everybody in principle' but as the witness, a former official from Doboj said, 'I can say with a clear conscience that in practice it applied only to non-Serbs'. He 'heard, saw and felt' the curfew on his own skin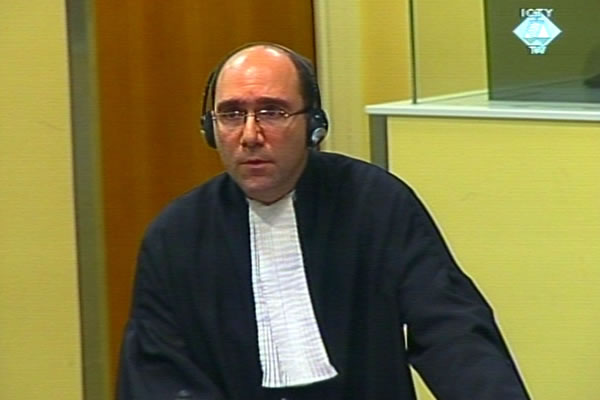 Alex Demirdjian, prosecutor at Mico Stanisic and Stojan Zupljanin trial
The trial of former Bosnian Serb police officials Mico Stanisic and Stojan Zupljanin continued today with the evidence of a witness testifying under the pseudonym ST 41 and with image distortion. Prosecutor Alex Demirdjian noted that the witness 'held a post in the Doboj municipality leadership and knew members of the crisis staff in the town'.
The witness held the post in Doboj from 1978 to 30 April 1992. In early May 1992, the Serb troops 'took over Doboj'. After that the witness was called to the garrison on the outskirts of Doboj and Major Krkes relieved him of his duty. The witness said that other non-Serbs lost their jobs, too.

Through the evidence of witness ST 41, the prosecution wants to prove that the curfew in Doboj applied only to non-Serbs. As the witness said, 'people were allowed to move around only from 8 to 11 in the morning'. In principle, 'the curfew applied to everyone' but as the witness noted, 'I can say with a clear conscience that in practice it applied only to non-Serbs'; they were the only ones who were arrested. As the witness said, 'every day I saw Serbs walking down the street during curfew'.
Replying to the prosecutor, the witness said that he 'heard, saw and felt' the curfew but didn't know who decided about it. The prosecutor then put it to the witness that the curfew was discussed on the local radio. The witness said, 'I think I may have heard on the radio that the Crisis Staff decided to impose it at the suggestion of the police'. 'It is difficult to get the exact timeline given the time lapse, these are bad things one wants to forget', the witness said.
Stanisic's defense lawyer claimed that the local Crisis Staff was the highest authority in the municipality which acted independently when it issued the order imposing the curfew. The defense maintains that the order applied equally to all citizens of Doboj regardless of their ethnicity. The defense lawyer added that the witness had a pass allowing him to move around although he was not a Serb.
In his reply to the judge, the witness explained he did not get the permit before fall and the curfew was imposed in the spring of 1992. The pass allowed him to move freely 'on the shortest route' to the place where he had to work under compulsory work orders. However, despite the fact that he had the pass, the witness was arrested; his arrest took place at the time when movement was allowed. The patrol that stopped the witness beat him up first and then took him to the police building. The witness was released after he talked to an inspector he knew. This inspector protected the witness as he left the station, so he didn't have to run the gauntlet of police officers in front of the police station.