Home
JELENA RASIC PLEADS NOT GUILTY TO BRIBING WITNESS
At her initial appearance before the Tribunal, former member of Milan Lukic's defense pled not guilty to all five counts in the indictment charging her with contempt of court. She is alleged to have 'knowingly and willfully interfered with administration of justice'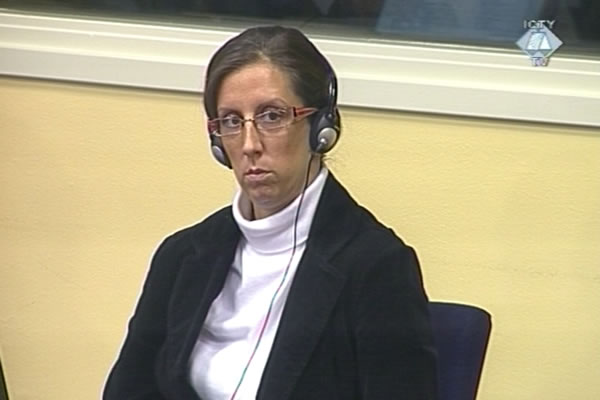 Jelena Rasic in the courtroom
Jelena Rasic, former case manager in the Milan Lukic's defense team, pled not guilty today to all five counts in the indictment against her, charging her with 'knowingly and willfully interfering with the administration of justice'. The indictment against Rasic was issued in early July 2010 and was confirmed in late August 2010. The contents of the indictment, however, had remained under seal until her initial appearance today.
In the summary of the indictment read this morning at the initial appearance of the accused before the Tribunal, it was alleged that Jelena Rasic offered Zuhdija Tabakovic € 1,000 in October 2008 if he signed a pre-written false statement. Tabakovic agreed. Rasic also promised Tabakovic more money if he came to the Tribunal to confirm the statement. That same day, Rasic showed Tabakovic two other false statements and asked him to find two Muslims from Visegrad willing to sign them in exchange for money.
Some days later, Tabakovic introduced Rasic to the witnesses who had agreed to sign the remaining two false statements. The witnesses remained unidentified, and were referred to as X and Y today. In December 2008, Rasic brought revised statements to all three of them and they signed them. In early January 2009, Milan Lukic's counsel gave copies of statements of the three false witnesses to the prosecution.
Based on the summary read today, the indictment charging Jelena Rasic with contempt of court is almost identical to the indictment against Zuhdija Tabakovic. Tabakovic was arrested in December 2009; at his initial appearance he also pled not guilty, but then in March 2010, Tabakovic made a plea agreement with the prosecution and was sentenced to three months in prison.
The Trial Chamber found Milan and Sredoje Lukic guilty of crimes against Muslims in Visegrad. The first accused Milan Lukic was given a life sentence, while Sredoje Lukic was sentenced to 30 years in prison. In the judgment, the Trial Chamber found that both Milan and Sredoje Lukic participated in the incident in which a group of about 60 women, children and elderly persons were set on fire in a house in the Pionirska Street in Visegrad in June 1992. Milan Lukic was found guilty of another incident in which people were burned alive in the Bikavac neighborhood, of the execution of two groups of Muslims on the banks of the river Drina and of the murder of Hajra Koric. The case is currently on appeal.