Home
APPEAL THREE TIMES AS LONG AS JUDGMENT
In a detailed appeal, Florence Hartmann's defense has asked for the judgment convicting the French journalist of contempt of court to be overturned. Hartmann was found guilty for disclosing 'the contents, purported effects and confidential nature' of the decisions of the Appeals Chamber granting confidential status to documents of the FRY's Supreme Defense Council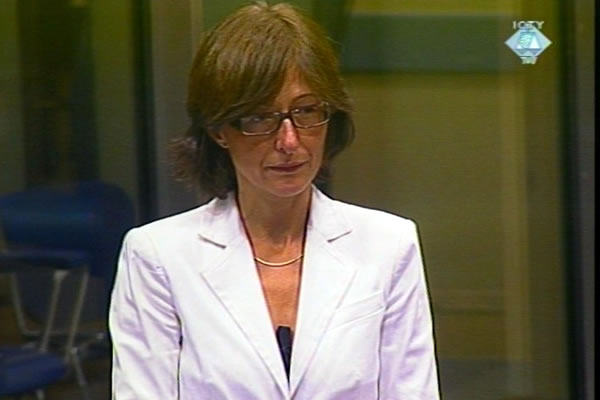 Florence Hartmann in the courtroom
Florence Hartmann's defense has filed an appeal against the judgment convicting the former OTP spokesperson of contempt of court. Hartmann was sentenced to pay a fine of € 7,000. The defense urges for the judgment to be overturned and asks for the acquittal of the accused, which was charged with 'consciously and deliberately disclosing the contents, purported effects and confidential nature' of two decisions of the Appeals Chamber in the Slobodan Milosevic case granting confidentiality to the documents of the FRY's Supreme Defense Council.
The appeal contains 14 grounds explained on 92 pages: it is three times as long as the appealed judgment. In three grounds, the defense states that Florence Hartmann's fundamental rights have been violated because she was not fully informed about charges. Hartmann was thus unable to prepare her defense. According to the defense, the Trial Chamber based its judgment on the facts that 'were not a part of the charges'. The burden of 'understanding' the charges was shifted on the defense, instead of the prosecuting authorities who should have provided "adequate notice of those charges".
The Trial Chamber, the defense argues, restricted Florence Hartmann's freedom of speech and thus violated her fundamental rights. According to the defense, restricting the freedom of speech of the accused and her punishment has lead to 'an unfair and unsafe' conviction 'establishing a dangerous precedent for journalists, historians and victims'. The defense also contends that the accused was refused the right for an independent and impartial trial. In April 2009, the defense requested that all decisions brought by the two disqualified judges be voided, but the newly appointed judges rejected the motion. In the defense's opinion, this 'has seriously violated' the fundamental rights of the accused.
Florence Hartmann, the appeal goes on to state, was punished because she disclosed the information that had already been disclosed not only by the Tribunal but also by the very state (Serbia) that asked for the protective measures. The defense argues there is no precedent for a contempt of court conviction based on the disclosure of information already in public domain. A conviction for contempt in such a case would be "without a valid legal basis; it would also be oppressive, unnecessary and inappropriate", the defense contends.
The Trial Chamber erroneously established that 'any' conscious and deliberate violation of a court order regardless of how it affected the administration of justice is necessarily an instance of contempt of court, the defense contends.
The appeal also notes that the Trial Chamber erred when it dismissed in its entirety the evidence of defense witness Louis Joinet, and when it imposed a fine of € 7,000, which is 'disproportionate and inadequate'.
In the meantime the Appeals Chamber granted the defense motion for the deferment of the fine until the final judgment has been handed down.