Home
INDICTMENT AGAINST BERKO ZECEVIC SUSPENDED
At his initial appearance before a Tribunal judge, Professor Berko Zecevic says the demands he has made to the prosecution regarding his testimony at the trial of Radovan Karadzic have been misunderstood. He did not 'refuse' to cooperate, but merely tried to defend his 'integrity and freedom'. He is ready to testify whenever the court asks him to. The indictment against him has been suspended and will be withdrawn once Professor Zecevic has completed his testimony. He has been released from detention and is now in a hotel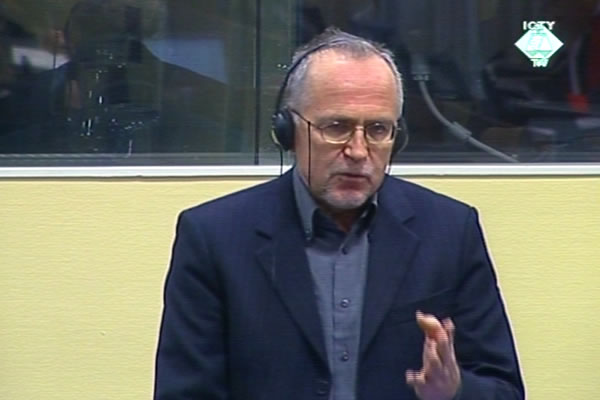 Berko Zecevic in the courtroom
'I will testify as many times as you see fit, Your Honor,' Professor Berko Zecevic told Judge O-Gon Kwon at his initial appearance at the Tribunal. 'I am glad to hear it,' the Korean judge replied, indicating that the indictment against Professor Zecevic will be withdrawn as soon as he completes his testimony at the trial of Radovan Karadzic, scheduled to begin next Tuesday.
This has put an end to the unusual case of Professor Zecevic, who chairs the Defense Technology Department at the Mechanical Engineering Faculty in Sarajevo. Professor Zecevic was arrested on Friday, 11 February, after he refused to testify as a prosecution witness at the trial of the former Bosnian Serb leader Radovan Karadzic. Professor Zecevic now claims he did not refuse to testify. It was a simple misunderstanding, he says.
'My response to the prosecution was motivated by the way they had treated me', Zecevic said, adding that the prosecution had refused to even consider his proposals regarding the way in which he could testify. As he explained, he is unable to sit or stand for prolonged periods because of back surgery. This is why he suggested that his testimony be limited to 180 minutes; he did not have any 'ulterior motives'.
Apart from his health problems, Zecevic was motivated by his desire to 'defend the integrity and freedom', since he had come to realize he was losing them 'by agreeing to cooperate further with the prosecution'. At one point, he saw that his demands had been misunderstood. 'It would never have occurred to me to do anything that would appear as disrespect for the Tribunal which has done so much to help my country,' Zecevic said, asking the judges to reconsider his situation.
Judge Kwon said the Chamber was willing to accommodate Zecevic because of his health and to limit the sitting times, stressing that it was not up to the witness to 'dictate the conditions of his testimony', least of all its length.
The indictment against Professor Zecevic has been suspended, and soon after the hearing he was released from detention and is now in a hotel in The Hague.
Professor Zecevic has already testified three times as a prosecution expert, at the trials of Slobodan Milosevic, Stanislav Galic and Dragomir Milosevic, and as a fact witness at the trial of Momcilo Krajisnik. At the trial of Radovan Karadzic, Zecevic will be testifying on the basis of his expert reports on the production and use of modified air bombs during the siege of Sarajevo, as well as the type and caliber of the shell that caused the first Markale massacre in February 1994, and the direction from which it was fired.