Home
TABAKOVIC CHARGED WITH GIVING A FALSE STATEMENT AND ATTEMPT TO BRIBE WITNESSES
Zuhdija Tabakovic pleaded not guilty yesterday to the six counts in the indictment unsealed after his initial appearance by the Tribunal. He is charged with signing a false statement and agreeing to confirm its contents in court in the Milan and Sredoje Lukic case in exchange for 1,000 Euros. Two other witnesses for Milan Lukic's defense contacted through Tabakovic agreed to do the same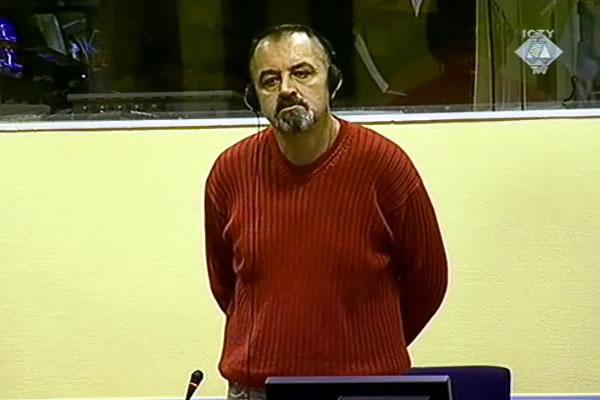 Zuhdija Tabakovic in the courtroom
After Zuhdija Tabakovic from Visegrad pleaded not guilty yesterday to contempt of court charges, the Tribunal unsealed the redacted version of the indictment charging him in six counts with 'knowingly and willfully interfering with the administration of justice'.
In two counts, the prosecution alleges that Tabakovic met with Jelena Rasic, Milan Lukic's defense case manager on 18 October. She showed him a statement that had already been prepared for him to sign in exchange for 1000 Euros. She also promised he would get more money if he came to The Hague to testify and confirm the statement. Tabakovic agreed to sign the statement and had the appropriate authorities in Sarajevo certify his signature. The statement was then served on the prosecution.
In the other four counts, Tabakovic is charged with locating two other persons, whose names are not given in the redacted version of the indictment. He did so at the instigation of Jelena Rasic. The two also agreed to sign prepared statements for 1,000 Euros, and to testify in The Hague for more money. Their signatures were certified in Sarajevo and disclosed to the prosecution.
The indictment notes that Tabakovic was not present during the events described in the statement and had no knowledge of them; he nevertheless agreed to sign the statement and testify in The Hague. He also knew that the other two persons whom he put in touch with Jelena Rasic signed false statements.
According to the indictment, by receiving a bribe to provide a false statement and by bribing other witnesses, Tabakovic knowingly and willfully obstructed the administration of justice, qualified as contempt of court. Alternatively, Tabakovic is charged in each of the six counts with attempt to obstruct the administration of justice by receiving a bribe or bribing witnesses. This offence is punished as the commission of the crime itself, under the Tribunal's rule.
This is not the first time that Milan Lukic's defense team has been implicated in attempts to provide false testimony. The last prosecution witness in that trial, Hamdija Vilic, claimed last November that Lukic's defense had offered him 100,000 Euros to sign a prepared statement that Vilic, as commander of a BH Army unit had Milan Lukic under siege between 13 and 15 June 1992. This would corroborate Lukic's alibi for the incident in which people were set on fire alive in the Pionirska Street in Visegrad. According to the indictment, Milan and Sredoje Lukic set about 70 Muslims on fire on 14 June 1992 in a house in the Pionirska Street. Milan Lukic was sentenced to life in prison for that crime and other crimes; Sredoje Lukic was sentenced to 30 years in prison.