Home
UNUSUAL CASE OF BERKO ZECEVIC
Professor Berko Zecevic faces charges of 'knowingly and willfully interfering with the administration of justice' because he refused to testify at the trial of Radovan Karadzic. Zecevic denies that his actions constitute 'contempt of court'. On the contrary, Professor Berko Zecevic maintains it is 'contempt of the work of a university professor' on the part of the prosecutors and judges of the Tribunal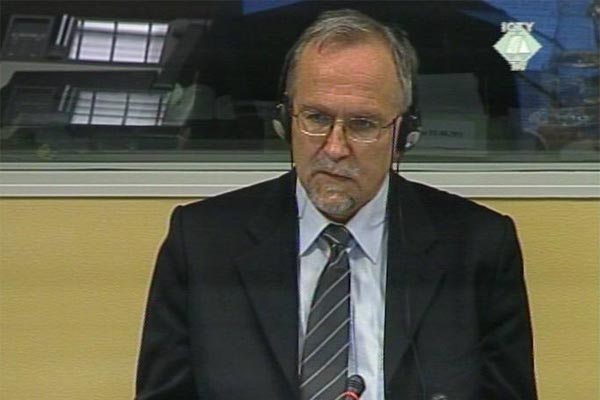 Berko Zecevic, witness in the Dragomir Milosevic trial
At Radovan Karadzic's request, the Trial Chamber unsealed its order of 4 February 2011 instituting contempt of court proceedings against Sarajevo professor Berko Zecevic. Zecevic refused to comply with a subpoena compelling him to testify at the trial of the former Republika Srpska president. A warrant for Zecevic's arrest and transfer to The Hague was issued at the same time. On Friday, 11 February 2011, the appropriate authorities in Bosnia and Herzegovina arrested Professor Zecevic. There is no information whether Zecevic has been transferred to The Hague.
Professor Zecevic heads the Defense Technology Department at the Faculty of Mechanical Engineering in Sarajevo. Zecevic has already testified four times before the Tribunal: as a prosecution expert at the trials of Slobodan Milosevic, Stanislav Galic and Dragomir Milosevic and as a fact witness in the case against Momcilo Krajisnik. At the trial of Radovan Karadzic, professor Zecevic was expected to appear as an expert and speak about the manufacture and use of modified air bombs during the siege of Sarajevo. Zecevic was also supposed to testify about the type and caliber of the shell used in the first Markale massacre in February 1994 and the direction from which it was fired. The prosecutor at first indicated that Zecevic would testify under Rule 92 ter. Zecevic's expert reports and written statement were to be admitted into evidence and the accused would then cross-examine Zecevic. In the meantime, the Trial Chamber ruled that Professor Zecevic's evidence was important and he was to testify viva voce. The accused asked for 25 hours to cross-examine Zecevic.
However, Berko Zecevic now suffers from 'the Tribunal fatigue', increasingly common among 'multiple witnesses' who have to come to The Hague five or six times or even more often and repeat their evidence. This 'fatigue' seems to be even more serious in Zecevic's case. Zecevic claims the prosecutionfailed to treat him with respect he deserves as a scientist, as indicated by the documents disclosed by the Tribunal and the BH State Court prosecution. Zecevic maintains that his previous testimonies had affected his career in a negative way. Furthermore, in the meantime Zecevic had to undergo back surgery and now has pain if he has to sit for longer periods of time.
Professor Zecevic has agreed to testify 'if there are new circumstances', but refuses to repeat for the fifth time the same things he had already said about modified air-bombs and the shell that caused the Markale massacre. In his statement before the State Court in Sarajevo, Berko Zecevic denied that this was a case of 'contempt of court'. On the contrary, Zecevic argues this is 'contempt of the work of a university professor' on the part of the prosecutors and judges of the Tribunal in The Hague.