Home
EULEX ISSUES GUARANTEES FOR HARADINAJ AND BRAHIMAJ
The European Union mission in Kosovo is willing to guarantee that the terms set down by the Trial Chamber would be complied with during the provisional release of Ramush Haradinaj and Lahi Brahimaj. The prosecution has opposed the provisional release of the accused noting that the Trial Chamber in its judgment found that the trial had proceeded in 'an unprecedented atmosphere of widespread and very serious intimidation of witnesses"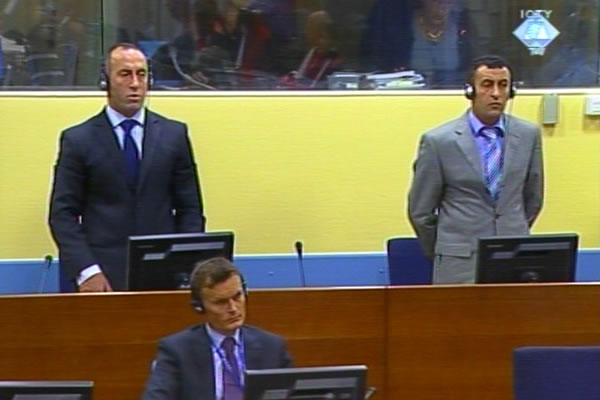 Ramush Haradinaj and Lahi Brahimaj in the courtroom
The European Union Mission in Kosovo – EULEX – today notified the Trial Chamber with Judge Moloto presiding that it was willing to issue guarantees that former KLA leaders Ramush Haradinaj and Lahi Brahimaj would comply with the terms of their provisional release in the Kosovo territory. The terms put forward by the defense would require the accused to observe restrictions of movement. Haradinaj would also have to abstain from public involvement in the Kosovo politics.
In late July 2010, the defense of Haradinaj and Brahimaj filed motions for their provisional release pending the partial re-trial. The two are charged, together with Idriz Balaj, with crimes against Albanian, Serb and Roma civilians in Kosovo in 1998. In its motion, Haradinaj's defense noted that on 19 July 2010 Haradinaj surrendered voluntarily when he learned that the Appeals Chamber had issued a confidential warrant for his arrest. Moreover, before his first trial, Haradinaj had spent two years at large and had complied with all the conditions of his provisional release.
Judging by the prosecution's response, the two-year provisional release period is the main reason why the prosecution has objected to Haradinaj's release pending trial, noting that the publicity that would follow the release of the accused would represent an intimidation risk for potential witnesses, jeopardizing the integrity of the trial. The prosecution goes on to note that the both the Trial Chamber and the Appeals Chamber found that the trial of the former KLA commanders had proceeded in an 'unprecedented atmosphere of widespread and very serious intimidation of witnesses'. This in turn led to problems in making sure witnesses came forward to testify and eventually to the partial re-trial.
The defense lawyers have rejected the allegations, providing a letter by Norwegian ambassador to Kosovo Sverre Johan Kale, describing Haradinaj as a 'stabilizing political factor both locally and Kosovo-wide', in support of their arguments. However, the Norwegian government soon distanced itself from its ambassador in Kosovo saying that 'his personal opinion in no way represents the official position of the Norwegian authorities'.
In April 2008, the Trial Chamber acquitted Ramush Haradinaj and Idriz Balaj on all counts in the indictment. Lahi Brahimaj was sentenced to six years for crimes in the KLA prison camp in Jablanica. However, on 21 July 2010, the Appeals Chamber quashed the acquittal of the three accused on six accounts in the indictment for the Jablanica crimes. Haradinaj and Brahimaj were returned to the Detention Unit while Balaj remains in a Kosovo prison where he has been serving his sentence for other war crimes.
It has not yet been disclosed when the partial re-trial of the KLA commanders might begin and how it would proceed.