Home
WHAT MLADIC DISCUSSED WITH BOSNIAN CROAT LEADERS
The prosecution wants to tender into evidence parts of Ratko Mladic's 'war diaries', as it believes the conversations between the VRS Main Staff commander and the accused Bosnian Croat leaders – Prlic, Stojic, Praljak and Petkovic – from October 1992 to February 1994 corroborate the prosecution's allegation that the four accused Croats took part in the joint criminal enterprise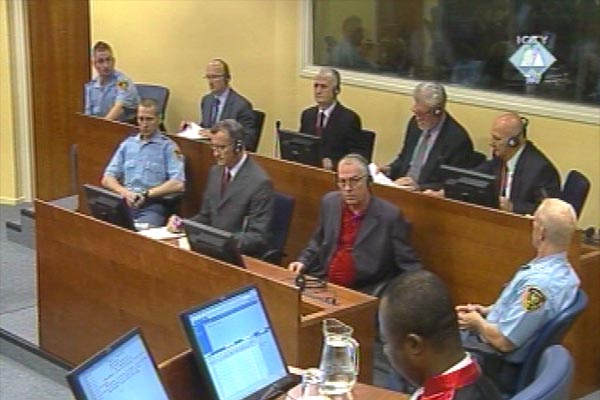 Jadranko Prlić, Milivoj Petković, Bruno Stojić, Slobodan Praljak, Valentin Ćorić i Berislav Pušić u sudnici Tribunala
The prosecution in the case against six former Herceg Bosna leaders has filed a motion to tender into evidence relevant parts of a 'war diary' General Ratko Mladic kept from June 1991 to late November 1996.
The prosecution wants to tender into evidence 18 documents with 15 excerpts from Mladic's diary. According to the prosecution, the documents corroborate the allegations in the indictment against Jadranko Prlic, Bruno Stojic, Slobodan Praljak, Milivoj Petkovic, Valentin Coric and Berislav Pusic. General Manojlo Milovanovic's written statement was also tendered into evidence. In his statement, the former chief of the VRS Main Staff confirmed that he had identified Mladic's handwriting and verified its authenticity.
The prosecution added to the documents a written statement of the interpreter who was present when Milovanovic gave his statement in April 2010. There is also a statement of OTP investigator Erin Gallagher who took receipt of Mladic's notes and other documents confiscated in the house of Mladic's wife Bosiljka and Mladic's son Darko on 23 February 2010.
The prosecution contends that parts of general Mladic's diary are 'extremely relevant' for the allegations related to the joint criminal enterprise and for the lengths the accused were ready to go to implement it. This evidence shows that the accused Prlic, Stojic, Praljak, Petkovic and Mate Boban met several times with Mladic and Karadzic from October 1992 to February 1994.
At the meetings, the Croat and Serb leaders talked about the restoration of the Croatian Banovina from 1939, denied the legitimacy of Izetbegovic's government and considered joint actions against the BH Army. The fact that the accused men knowingly cooperated with Mladic and other Bosnian Serb leaders responsible for widespread crimes perpetrated to establish 'a Greater Serbia' shows, as the prosecution contends, that the Bosnian Croat leaders intended to commit other crimes to implement their goal – the establishment of Herceg Bosna under the Croat dominance.
The prosecution argues that admitting parts of Mladic's diaries into evidence will not affect the right of the accused to a fair trial. The prosecutor notes that the evidentiary value of the documents is 'significant' in relation to 'the small' number of documents tendered into evidence. The prosecution does not intend to call any new witnesses. It is now up to the Trial Chamber to decide if it will allow the defense teams of the accused Herceg Bosna to call any witnesses.