Home
MLADIC'S DIARIES INCRIMINATE FORMER HERCEG BOSNA LEADERS
At the trial of the six former Herceg Bosna leaders, the prosecution wants to reopen its case in order to tender into evidence Mladic's 'war diaries' and documents referring to their contents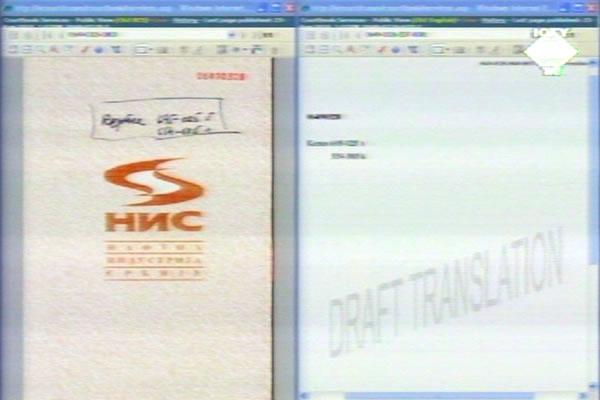 Mladic's 'war diaries' dated from June 1991 to late November 1996
The prosecution has asked for leave to reopen its case at the trial of the former Herceg Bosna leaders in order to tender into evidence Mladic's 'war diaries' and a number of documents and other exhibits referring to their contents. Mladic's diaries date from June 1991 to late November 1996.
The prosecution has already asked that Mladic's notebooks be admitted into evidence in the cases against Radovan Karadzic, Jovica Stanisic and Franko Simatovic and Mico Stanisic and Stojan Zupljanin, and Vojislav Seselj. The same demand is expected soon in the Momcilo Perisic case. Mladic's notebooks have already cropped up at the trial of Stanisic and Simatovic during the evidence of Manojlo Milovanovic. Former chief of the VRS Main Staff, identified Mladic's handwriting and confirmed their authenticity.
The notebooks were confiscated on 23 February 2010 in the apartment belonging to Mladic's wife together with about 120 audio and video cassettes, a memory card, medical and other documents. The confiscated material was sent to The Hague on 11 May 2010. The transcription and translation of the hand-written notes are currently underway.
In its motion disclosed today, the prosecution highlights the relevance of the materials for the case against the former Herceg Bosna leaders. Two audio tapes recovered together with the diaries relate to Mladic's meeting with former HZ HB president Jadranko Prlic and other Bosnian Croat leaders in February 1994.
The prosecution went on to quote Mladic's notes about a meeting with the delegations from Croatia and Herceg Bosna in Pécs on 5 October 1992. Two other accused – Bruno Stojic and Slobodan Praljak – attended the meeting together with Prlic. Mladic jotted down that Praljak said, 'The goal is the Banovina of 1939; if not, we'll continue the war'. An agreement on cease-fire, exchange of prisoners and repairs to the hydroelectric power plant in Jajce was reached at the meeting.
Other meetings followed, the prosecution maintains. Another accused, General Milivoj Petkovic, attended a meeting in Njivice on 26 October 1992. Praljak told Mladic, 'We are making good headway in our effort to convince Alija to divide BH'.
On the other hand, the prosecution quoted Radovan Karadzic too: at a meeting with Slobodan Milosevic on 8 July 1993, Karadzic ordered Mladic, 'Help the Croats in order to force the Muslims to accept the partition of BH'. Mladic left Belgrade the same day and went to Njivice, where he met with Petkovic. The two made deals on the military cooperation between the VRS and the HVO, sale of weapons and equipment and 'renting' artillery pieces which then fired on the BH Army positions north of Mostar.