Home
DEFENSE OF THE PROTECTED ZONE
In the cross-examination of Colonel Franken, former deputy commander of the Dutch Battalion in Srebrenica, Tolimir accused the UNPROFOR of siding with the BH Army in July 1995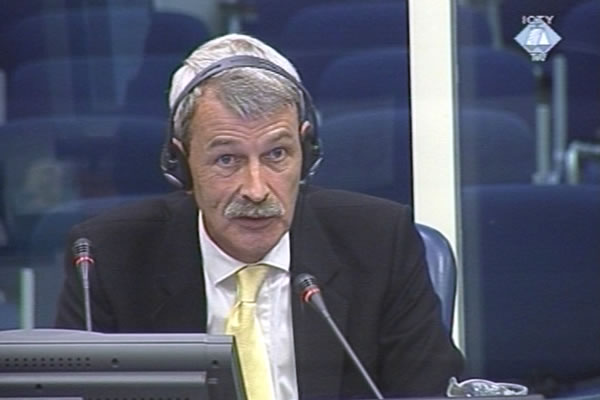 Robert Franken, witness at the Zdravko Tolimir trial
The UN forces in Srebrenica in July 1995 sided with the BH Army against the VRS, the accused VRS general Zdravko Tolimir said as he continued his cross-examination of Dutch colonel Robert Franken.
During the whole of the hearing today, former Mladic's deputy commander for security in the VRS Main Staff used documents which show that the BH Army deliberately violated the agreement on protected and demilitarized zones in Srebrenica and Zepa from their very establishment in March 1993. In July 1995, the witness served as the deputy commander of the Dutch Battalion in Srebrenica. The Bosniak forces obtained arms and attacked the nearby VRS positions from the enclaves regardless of the blue helmets presence or even in collusion with them, the accused suggested. Arms were smuggled in from Tuzla, by helicopter or in convoys that entered the enclave from south-west, going through an area known as the 'lamppost triangle'.
Franken confirmed that Dutch soldiers could not access the area and that the battalion command repeatedly received reports of arms shipments coming in. Nevertheless, the witness noted that the blue helmets didn't have enough equipment and were not authorized to track down arms shipments to the enclave and prevent them. 'We failed to demilitarize the enclave', the Dutch officer noted.
As the accused put it, the attack on Srebrenica, launched on 6 July 1995, was a consequence of UNPROFOR turning a deaf ear to the VRS protests. In June 1995, the VRS protests culminated in a demand they made to the UN command in Sector Sarajevo to 'demilitarize the enclaves immediately; if not the VRS will do it on its own'. According to Franken, the Dutch Battalion wasn't told about the demand.
Three days after the VRS attack, on 9 July 1995, the UN issued an order to defend the enclave Srebrenica. This order expanded the original mandate of UNPROFOR which was to demilitarize the enclave, prevent military operations by the warring factions and to secure humanitarian aid supplies. All restrictions in the rules of engagement were rescinded at that point in time, Franken said. The task was to defend the town under attack by the VRS and the Dutch Battalion was trying to carry out that task, Franken insisted.
When Tolimir asked if this was decided by the UN Security Council, Franken replied, 'I don't know and I didn't care' on which level the decision was made. 'I received the order immediately from my superior command and for as long as it didn't require me to commit any crimes, I complied with it', the Dutch officer said.
Zdravko Tolimir will continue his cross-examination of the Dutch officer on Tuesday afternoon.