Home
DEFENSE: REPORTS FOR MINISTER WERE DOCTORED
The defense of first interior minister in the Bosnian Serb government Mico Stanisic contends that Stanisic didn't receive all the reports on the events in the Banja Luka area in 1992. According to the defense, the reports Stanisic received were doctored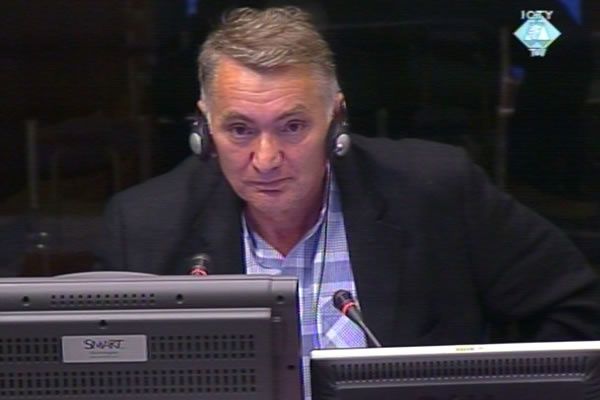 Predrag Radulovic, witness at the Mico Stanisic and Stojan Zupljanin trial
Predrag Radulovic, former inspector in the state security service in Banja Luka, was examined today by Mico Stanisic's defense counsel. Stanisic, the first Bosnian Serb interior minister, is on trial together with former chief of the Banja Luka Security Services Center Stojan Zupljanin for crimes against non-Serbs in 20 municipalities throughout Bosnia and Herzegovina in 1992.
Lawyer Slobodan Zecevic probed the historical background of the BH conflict, noting that the ethnic division was inevitable and in fact envisaged in Cutilheiro's peace plan for an independent state with three ethnic-based federal units. In 1991, the defense counsel went on to say, the BH MUP was transformed; only Muslims remained in the intelligence administration. The witness agreed with that. A report drafted by the intelligence group
Milos
Radulovic headed says that in early March 1992, the MUP leadership decided to retire 100 Serb employees and hire about 200 Bosniaks and Croats as replacements.
The witness had no contacts with Stanisic in 1992. They talked for the first time in 1999, the witness said. On that occasion, Stanisic told the witness that the 'key information' gathered by the
Milos
group never reached him. The witness later learned that his immediate superiors doctored the reports forwarded to the top brass in the MUP and Republika Srpska. The reports sent to the Serbian state security service weren't doctored.
At the beginning of today's hearing, the prosecutor showed the recording of a police parade in Banja Luka held on 13 May 1992, at which the two accused addressed the force, in the presence of the Bosnian Serb top brass, headed by Karadzic. In his speech, Stanisic talked about the Muslim extremists killing Serb families in Srebrenica. The Muslims used Serb families as human shields 'in strategic facilities they knew might be targeted by the Serbs'. The witness confirmed that Stanisic's speech pertained to the killings of Serbs in early May 1992 in Srebrenica.
Stojan Zupljanin's defense will examine Predrag Radulovic on Monday. As the chief of the Banja Luka Security Services Center in 1992, Zupljanin was Radulovic's superior officer.