Home
SESELJ POSTPONED HIS PLEA
Vojislav Seselj refused to enter his plea on the contempt of court charges. The indictment alleges that Seselj published in one of his books information that could lead to the identification of 11 protected prosecution witnesses. A new date for Seselj's plea will be set forthwith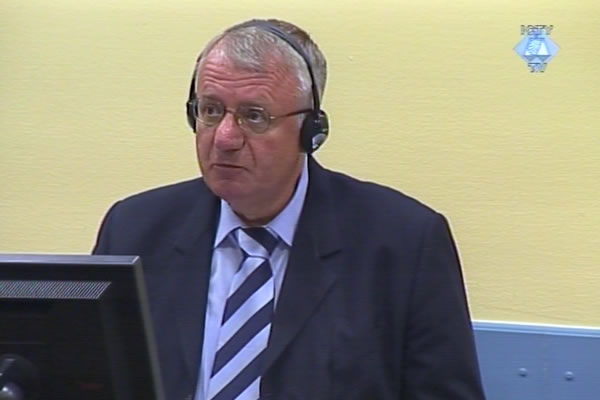 Vojislav Seselj in the courtroom
Serbian Radicals' leader Vojislav Seselj refused to enter his plea on the single count in the indictment charging him with contempt of court for violating the Trial Chamber's orders. In one of his books, Seselj disclosed information that could lead to the identification of 11 protected prosecution witnesses. The book, the indictment alleges, provides plenty of details about protected witnesses including their names, occupation and place of residence.
Seselj today refused to enter his plea because he had not received documents that in his view represent the basis for the indictment for contempt of court. Judge Burton Hall then postponed the hearing for at least ten days. A new date will be set forthwith.
Today Seselj managed to outdo himself, saying he was about to 'have a final showdown with Adolf Hitler's followers who are using the Tribunal in The Hague as their tool'. According to Seselj, the dates set for his plea on the contempt of court charges are the dates of Hitler's birth and death.
Prosecutor
amicus curiae
Bruce McFarlane noted that Seselj's plea – initially scheduled for 20 April 2010 – had to be postponed because McFarlane 'couldn't cross the Atlantic' because of the volcano ash.
The special chamber for contempt of court cases comprises Judge Hall, Judge Kevin Parker and Judge O-Gon Kwon. Seselj submitted a motion for their disqualification because of 'conflict of interest': he insulted them roundly in the books he wrote about judges Parker and Kwon after he was sentenced last year to 15 months for disclosing the identity of three protected witnesses.
Seselj's main trial for crimes against humanity in Croatia, Vojvodina and BH has been adjourned and will continue in mid-May 2010, when the Trial Chamber should examine its last witness. Rule 98
bis
hearing will follow. Seselj will demand to be set free after the first half of the trial, because in his view the prosecution failed to prove his guilt on any of the counts in the indictment. If the Trial Chamber rejects the argument of the accused, the trial will enter its second half, and Seselj, who is self-represented, will begin his case.