Home
PEOPLE WERE KILLED IN BANJA LUKA FOR 'PALTRY REASONS'
Former chief of the Banja Luka public security station, appearing as an unwilling prosecution witness, agreed with Mico Stanisic's defense that in 1992, homicides in Banja Luka were not motivated by ethnic hatred. People lost their lives for 'paltry reasons' and because of alcohol-fueled quarrels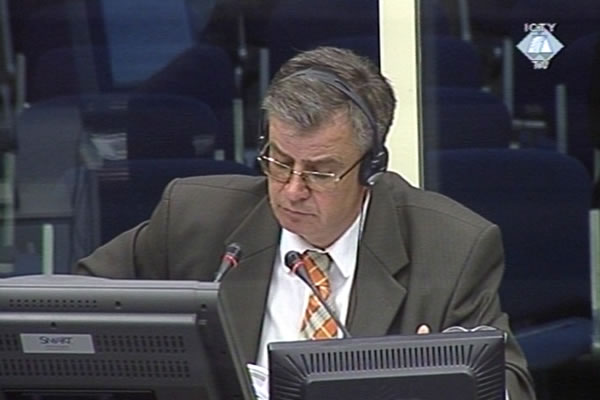 Vladimir Tutus, witness at the Mico Stanisic and Stojan Zupljanin trial
The defense of the first Bosnian Serb interior minister Mico Stanisic continued cross-examining the unwilling prosecution witness, former chief of the Banja Luka police Vladimir Tutus. Stanisic is on trial together with Stojan Zupljanin, former chief of the Banja Luka Security Services Center, for crimes of Bosnian Serb police in 1992.
Yesterday the defense counsel started showing the witness criminal reports from 1992 and devoted most of the cross-examination today to the same exercise, to show that the Banja Luka police investigated all crimes regardless of the ethnic background of the perpetrators and victims. The witness once again agreed with all the suggestions of the defense.
An analysis of crimes in the Banja Luka municipality, prepared in December 1992 by the CID chief in the Public Security Station, notes that the killers and their victims most often came from the same ethnic community. According to the analysis, 'inter-ethnic homicides are rare' despite the ongoing war. 'Increased quantities of arms in possession of citizens' and 'an increase in alcohol consumption' are quoted as the most frequent cause of homicide. In most cases, homicides were not motivated by ethnic hatred but by some 'paltry reasons'. Ninety percent of perpetrators were drunk when they committed the crimes.
The defense lawyer also showed some orders Stanisic issued in July 1992, to the effect that all police officers who committed crimes should be 'suspended from duty and placed at the disposal of the VRS'. Stanisic also ordered that special units which were part of the Security Services Center be disbanded and seconded to the VRS. The witness confirmed that Minister Stanisic sent 'several such memos', but was unable to recall the minister's dispatch on obligatory documenting of war crimes and the special form provided to that end, because the order was not addressed to his station. When the defense counsel put it to the witness that he 'surely' had to be informed about the war crime questionnaire, Tutus said that he "believed he had been informed".
Stojan Zupljanin's defense lawyer will cross-examine Vladimir Tutus on Monday.