Home
NEW TESTIMONIES OF SURVIVORS
Two more witnesses confirmed at the trial of Zdravko Tolimir what they said about their survival of the execution of some 1,000 Bosniaks, captured after the fall of Srebrenica, at the execution site in Orahovac near Zvornik on 14 July 1995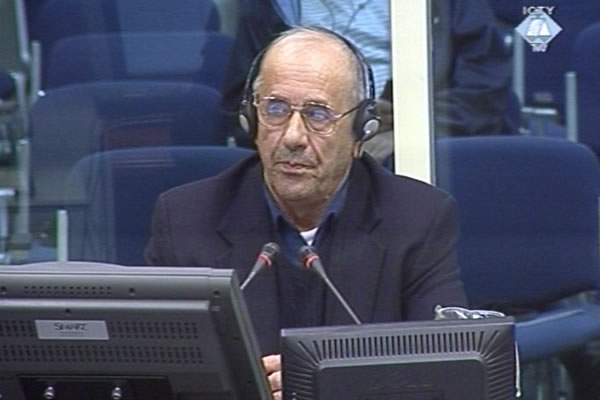 PW 023, witness at the Zdravko Tolimir trial
Witness PW 023 appeared for the fifth time before the Tribunal at the trial of Zdravko Tolimir to confirm what he had said in his previous evidence. The witness was among the Bosniaks captured after the fall of Srebrenica. They were detained in a school in Orahovac near Zvornik and taken to be executed on 14 July 1995. Tolimir is former assistant commander for security and intelligence in the VRS Main Staff.
The witness's statement given in the Popovic
et al
. case in 2007 was admitted into evidence and the prosecutor read the summary. On 11 July 1995, the witness went to Potocari where he was separated from his wife and children on 12 July. Together with about 150 men, he was detained in 'an unfinished house'. Next day, the prisoners were transferred to 'an abandoned farm warehouse in Bratunac'. In the night of 13 July, the witness saw Serb soldiers taking out prisoners from the warehouse. Blows and cries were heard afterwards. In the morning, the detainees were ordered to take out those who didn't survive out of the warehouse.
On 14 July 1995, the prisoners were driven to the primary school in Orahovac near Zvornik, where they were detained in a gym. That same afternoon they were again put onto trucks and taken to a nearby field; a huge pile of dead bodies was already there. The new arrivals were mown down with 'bursts of gunfire'. The witness was not hit but he dropped down and was buried under the dead bodies. When night fell, the witness crawled out and hid behind a bush from where he observed more groups of prisoners brought in and executed.
In the evening, backhoes arrived and started digging a mass grave. Before dawn, when the witness made sure that all Serb soldiers had left the execution site and then he and another survivor, a young man, managed to get into the woods. The witness reached the 'free territory' on 19 July 1995.
The accused Tolimir cross-examined the witness himself, bringing up a part of the witness's statement where he claims he saw General Ratko Mladic six times while he was detained. The last time the witness saw Mladic was at the execution site in Orahovac. The witness confirmed this, saying that Mladic arrived on 14 July 1995 at about 7pm in a red car, escorted by two soldiers. The accused then confronted the witness with the claims made by other witnesses that Mladic was in Belgrade, attending a meeting with Slobodan Milosevic and Carl Bildt at the time. The witness dismissed the claims. 'Maybe he went there later; if he flew in a helicopter he could be there by 8pm', the witness said.
Mevludin Oric confirmed today his evidence at the Popovic
et al
. trial in 2006. Oric, another survivor of the execution in Orahovac, will continue and complete his evidence on Thursday, 25 March 2010.