Home
TRIAL OF ZDRAVKO TOLIMIR TO OPEN IN DECEMBER
The pre-trial conference in the case of Zdravko Tolimir, charged with genocide and other crimes in Srebrenica and Zepa, has been scheduled for 16 December 2009. The prosecution will deliver its opening statement on 17 and 18 December 2009. First prosecution witnesses will give evidence in January 2010. Tolimir is still not getting enough sleep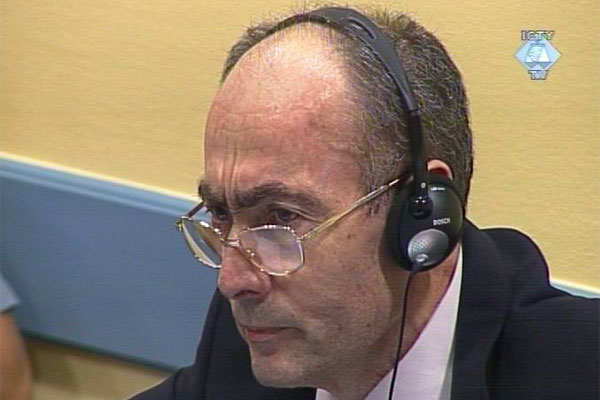 Zdravko Tolimir in the courtroom
The pre-trial conference in the case of Zdravko Tolimir has been scheduled for 16 December 2009, it was decided at the status conference today, probably the last such conference in the case against Ratko Mladic's assistant for intelligence and security. Tolimir is charged with genocide and other crimes in Srebrenica and Zepa in July 1995. Canadian judge Kimberly Prost will preside over the Trial Chamber hearing the Tolimir case; this is the first time that an ad litem judge is in charge of a trial. Other members of the Trial Chamber are German judge Christoph Flugge and Antoine Mindua from Kongo.
The prosecution will deliver its opening statement on 17 or 18 December 2009. Jean Rene Ruez, former leader of the prosecution's team investigating Srebrenica and the first witness, is expected to give evidence in January 2010. Prosecutor McCloskey suggested that after the winter recess, scheduled to begin on 21 December, the trial should continue on 25 January 2010. The Trial Chamber will rule on this later.
The prosecution also indicated it would submit a motion to amend the indictment early next week to 'make it clearer'. Tolimir said he would reply to the motion once he has received it in 'a language he understands'.
The former VRS general told the Trial Chamber he would ask the ICTY Registry to grant him additional funds to his the defense team. Tolimir, who insists on representing himself, needs the money to pay not only his legal advisors but investigators, too. As he said, 'I cannot investigate from my cell what must be investigated in the field'. Tolimir also complained about 'cruel and inhuman treatment'. The guards still wake him up every thirty minutes during the night to check if he is alive.
Judge Prost indicated the Trial Chamber had received a neurologist's report recommending that Tolimir continue taking his medication and checking his blood pressure. If the results are good, the Trial Chamber will recommend that 'Tolimir go back to the normal system without nightly check-ups', Judge Prost said. Tolimir contends that the medical treatment 'is ruining' his health. As he said, 'I don't know why the Trial Chamber values pills more than tea and prayer to the Lord who heals all'.