Home
ALL 'TOLIMIR'S MEN'
Continuing the opening statement at the trial of General Zdravko Tolimir, the prosecution indicated it would prove that 'Tolimir's men' directed all the activities related to the detention, execution and burial of thousands of men and boys from Srebrenica in July 1995. 'Tolimir's men' included members of the 10th Commando Detachment who executed more than 1,700 Bosniaks at the Branjevo Military Farm and in the Culture Hall in Pilica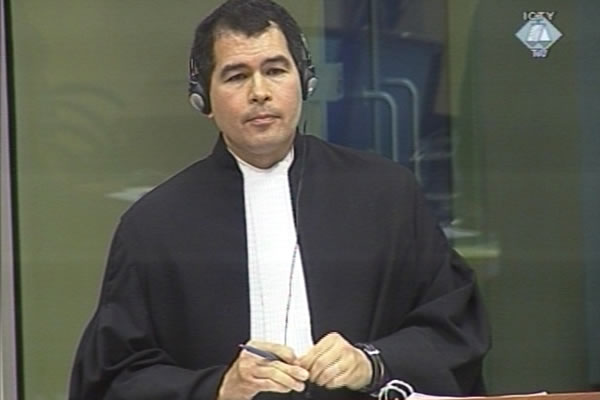 Nelson Thayer, , prosecutor at the Zdravko Tolimir trial
General Tolimir is one of few people who were in a position to save thousands of lives in Srebrenica and Zepa in the summer of 1995, but he didn't do it. 'Instead he opted for the plan of starvation, ethnic cleansing and genocide'.
With these words, prosecutor Nelson Thayer today concluded the opening statement at the trial of Mladic's former assistant commander for intelligence and security in the VRS Main Staff. Tolimir faces charges of genocide and other crimes in Srebrenica and Zepa in 1995.
As the prosecution alleges, General Zdravko Tolimir played an important role in the implementation of the Bosnian Serbs' plan to ethnically cleanse areas along the Drina River in eastern Bosnia, by eliminating other ethnic communities, primarily Bosniaks from the region. The plan was based on the strategic aims adopted at the Serbian Assembly in 1992. The plan culminated in the summer of 1995 with the capture of the UN-protected enclaves of Srebrenica and Zepa.
[IMAGE]4613[/IMAGE]Describing in detail the stages in the preparation and implementation of the operation to capture the Srebrenica enclave, the prosecutor focused in particular on the directives, orders and other documents of the VRS Main Staff and the Drina Corps. The prosecution alleges that the documents confirm that General Tolimir participated in the effort to coordinate the operation aimed at the expulsion of the Muslims from the enclave and the execution of thousands of men who were detained at various sites in the Bratunac and Zvornik areas.
The prosecution will prove, the prosecutor claimed, that General Tolimir was in constant contact with the Main Staff and was actively involved in the decision-making process about the course of the operation, in particular as regards the detention, execution and burial of the prisoners. The prosecution evidence shows that 'Tolimir's men' directed those activities in the field, while Tolimir coordinated and supervised them. Members of the 10th Commando Detachment were also 'Tolimir's men', the prosecution alleges. On 16 July 1995, members of that unit executed more than 1,700 Bosniaks at the Branjevo Military Farm and in the Culture Hall in Pilica.
Tolimir directly participated in the operation in which the Zepa enclave was captured, contributing to 'the effort to extinguish every hope the Bosniak population had for their survival in that area', the prosecutor emphasized. The prosecution will try to prove that Tolimir is responsible for the destruction of the mosque in Zepa and the abduction of the local priest whose remains were found several years ago together with those of Avdo Palic, the commander of the BH Army Zepa Brigade, who was captured after the fall of the enclave.
Zdravko Tolimir's trial continues on Thursday, 11 March with the evidence of the first prosecution witness.