Home
HOW THE JNA 'PROTECTED' IZETBEGOVIC
Former head of the counter-intelligence department in the Security Administration of the JNA and VJ Branko Gajic gives evidence at the trial of General Momcilo Perisic. Gajic gave his version of the incident in Dobrovoljacka Street on 3 May 1992. According to Gajic, the JNA protected Izetbegovic from an assassination attempt prepared by Ejup Ganic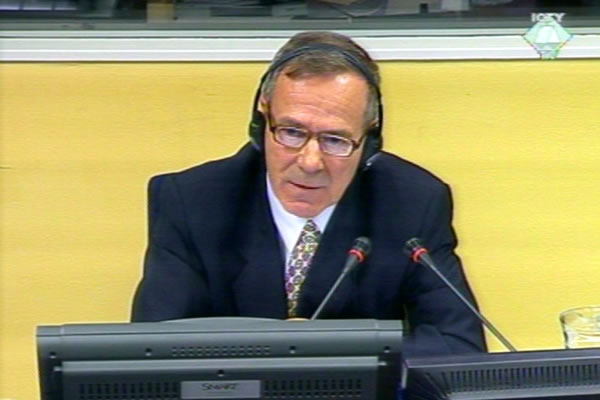 Branko Gajic, defence witness of Momcilo Perisic
General Branko Gajic spent most of his career in the JNA and the VJ as the head of the counterintelligence department in the Security Administration. At the trial of General Momcilo Perisic, former chief of the VJ General Staff, Gajic first talked about the duties of various security and intelligence bodies and individual provisions of the service manual governing their work. Gajic then went on to speak about the events that in his view preceded the outbreak of the conflict in Croatia and BH.
Gajic said that the 'gravest incident with catastrophic consequences' happened on 3 May 1992. According to him, because 'there were indications that Alija Izetbegovic will be killed' on his return from the Lisbon talks, the JNA decided to 'escort safely' Izetbegovic from the airport to the Presidency, with his consent. However, Gajic continued, a convoy of 30 military vehicles was blocked in Dobrovoljacka Street in Sarajevo. 'Paramilitary formations lying in wait there massacred the innocent officers, soldiers and civilians', the former KOS officer contended, adding that Ejup Ganic ran over the whole operation. At the time Ganic was a member of the BH Presidency. The witness alleged that Izetbegovic supported 'a political solution and negotiations', while Ganic was in favor of 'the armed force' and was 'ready to kill Alija Izetbegovic'.
Gajic explained that 'paramilitary formations' had already been established in Croatia and BH by that time: the National Guard Corps and the Patriotic League respectively. They obtained weapons through illegal channels. Gajic then described how in April 1992 the Security Administration received some documents which indicated, according to him, that the BH leadership, the Territorial Defense and the Patriotic League 'were getting ready for a fight with the JNA'. Among those documents was a decision of the BH Presidency to withdraw the JNA units, inviting the Yugoslav Army personnel to 'join the newly formed forces of the TO'. There was also an order of the BH TO Staff to implement the JNA withdrawal under the MUP escort.
Gajic continues his evidence tomorrow.