Home
REAL OBJECTIVES OF 'DECEPTION PLAN'
At the trial of General Momcilo Perisic, the prosecutor showed virtually identical paragraphs from the Drina Plan, drafted by the VJ General staff, and the plans produced by the Republika Srpska Army: both state that the first priority of the army is 'make it possible for all Serb territories to be liberated and united in a single state'. The witness Miodrag Simic called the Drina Plan a 'deception plan'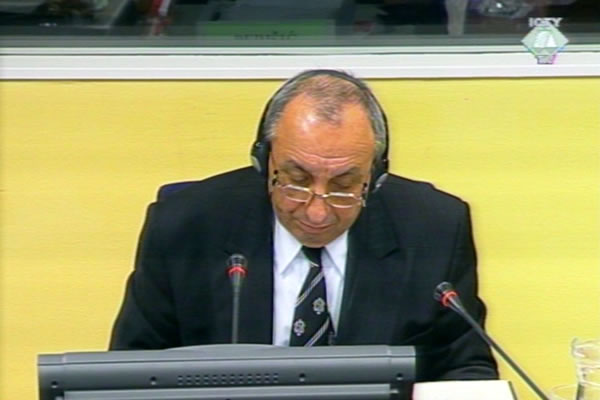 Miodrag Simic, defence witness of Momcilo Perisic
The prosecution today cross-examined Miodrag Simic, former chief of the First Administration in the VJ General Staff, trying to prove that the Drina Plan, adopted on 24 November 1993, was not a 'deception plan', as the witness had claimed in his examination-in-chief at the trial of Momcilo Perisic, former chief of the Yugoslav Army General Staff. According to the prosecution documents, the plan was elaborated in greater detail a mere month later by the Republika Srpska Army (VRS).
The Drina Plan speaks at length about the 'probable aggression of the Croatian Army on the Republic of Serbian Krajina' and the Directive on the Deployment of the Armed Forces, part of the war plan, states that the Yugoslav Army should 'cooperate with the SVK in the effort to counter the attack on Baranja and Western Slavonia, and with the VRS in the Drina river valley and eastern Herzegovina'.
The prosecutor first showed the witness an excerpt from the Directive for the Use of the VRS, which entered into force in late December 1993, suggesting that it is apparent from it that the Drina Plan had been formulated in the VJ General Staff, forwarded to the VRS and then elaborated. The witness disagreed, noting that the excerpt was sent by the commander of the VRS Main Staff; had it been forwarded from the Federal Republic of Yugoslavia, it would have been stamped and logged by the VJ General Staff.
Simic didn't deny that General Ratko Mladic was aware of the Drina Plan, since his chief of staff, Manojlo Milovanovic, was there when the plan was drafted in Belgrade, together with the leading people from the VJ General Staff and Mile Novakovic from the Serbian Army of Krajina.
The prosecutor also showed Simic several annexes to the Directive for the Use of VRS Units, including the annex on logistic support and the order determining the sites where communications centers were to be set up. The schematic attached to the latter designates a number of communications centers in Serbia – on Mount Avala and Mount Zlatibor, and various sites in the RSK. According to the prosecution documents, the VRS had a plan for the intelligence support of their defensive and offensive operations, and a plan for the psychological operations, morale and dissemination of information in the VRS.
As the hearing today drew to a close, the prosecutor quoted to the witness a paragraph from the VRS plan where it says that the Army is 'firmly committed' to taking all measures to prevent other ethnic groups from setting up their own states 'at the expense of areas which have traditionally been Serb'. The goal was to 'make it possible for all Serb territories to be liberated and united in a single state'. A similar goal, as the prosecutor noted, is listed in the Drina Plan of the Yugoslav Army General Staff.
General Simic's cross-examination will continue tomorrow afternoon.