Home
'UNIQUE EXAMPLE' OF RESPECT FOR CIVILIANS' RIGHTS
Retired general Djordje Curcin noted that Serbian forces were determined to respect the civilians' rights. In April 1999, Curcin said, he drafted an order on behalf of the VJ General Staff: the defense against the NATO campaign was to be carried out with full respect of international humanitarian law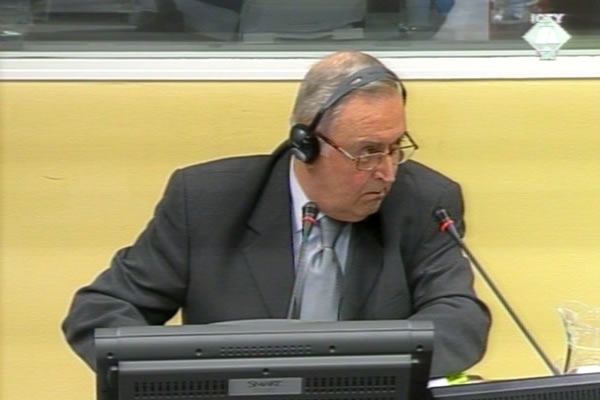 Djordje Curcin, defence witness of Vlastimir Djordjevic
Retired VJ general Djordje Curcin appeared today for the third time in court in The Hague. This time Curcin is testifying in the defense of former chief of the Serbian MUP Public Security Department, Vlastimir Djordjevic. Curcin had previously testified at the trial of two former chiefs of the VJ General Staff: Momcilo Perisic and Dragoljub Ojdanic. In the Perisic case, he testified for the prosecution, and in the Ojdanic trial, for the defense. Perisic is on trial for providing support to the Serb armies in Bosnia and Krajina, thus contributing to their crimes in Zagreb, Sarajevo and Srebrenica. Ojdanic was indicted with five other former Serbian officials for crimes on Kosovo.
The statement the witness gave to Ojdanic's defense and the transcript of his evidence at that trial in October 2007 were admitted into evidence. Defense counsel Djurdjic then showed a series of the General Staff documents he considers favor his client. In April 1999, Curcin personally drafted one of the orders as the head of the First Operations Administration in the General Staff; in it he notes that the KLA members intended to infiltrate the Kosovo territory in the refugee columns from Macedonia and Albania.
The witness confirmed there had been such cases, and then said that the KLA members were prone to 'manipulating the civilians' in different ways. The KLA would order the civilians to leave their houses, Curcin recounted, and then 'make them wander around Kosovo', only to make them return to their homes; sometimes they simply wandered around in circles to create 'an impression of a humanitarian disaster'. The goal was to blame Serbia for that. This is why the army carefully checked the refugee columns to prevent the infiltration of 'terrorists', Curcin clarified.
During its case, the prosecution called evidence on the violent conduct of the army and police against Albanian civilians during the 'checks'. Curcin tried to paint a different picture of the situation in the province. In Curcin's words, the army took a lot of care to protect the civilians. To corroborate his argument, Curcin brought up a General Staff directive of 9 April 1999, ordering that the defense against the NATO campaign should be carried out with 'full respect of the provisions of the Geneva conventions and international humanitarian law'. Curcin emphasized that he had authored that document, calling it a 'unique example' of respect for civilians' rights amid fierce fighting.
The witness was shown orders from mid-April 1999 where the FRY president Milosevic and chief of the General Staff Ojdanic demand that the police units be subordinated to the army. Curcin explained that in practice, the police was under the command of the VJ in combat, but when they were not fighting, the police went about their normal day-to-day business.
The evidence of the former operations officer in the VJ General Staff continues tomorrow.