Home
'PICTURE OF A SAD SITUATION'
The defense of the first Bosnian Serb interior minister contends that Muslims and Croats threatened Serb interests in the BH MUP in 1991. The prosecution expert reminded the court that such accusations were levied against Serbs, too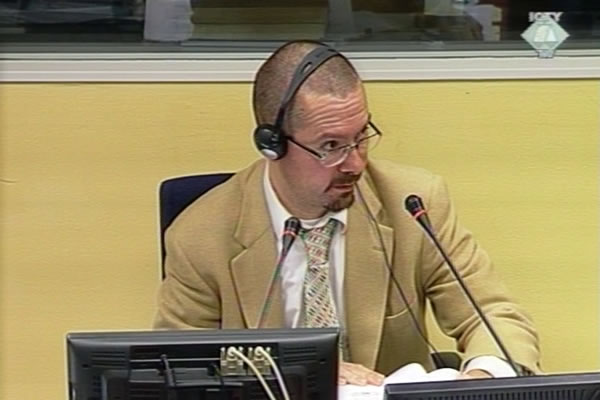 Christian Nielsen, svjedok na suđenju Mići Stanišiću i Stojanu Župljaninu
Prosecution expert Christian Nielsen wrote an expert report on how the BH police was carved up and how a Serb MUP was established. On the second day of his evidence, Nielsen was examined by the defense of Mico Stanisic, the interior minister in the first war government on Pale. Stanisic and Stojan Zupljanin are indicted for crimes of the Serbian police committed against Muslims and Croats throughout BH from April to December 1992.
Stanisic's defense counsel Slobodan Zecevic focused today on the analysis of the situation in the BH MUP until March 1992. According to the defense, in 1991 Croats and Muslims started with their efforts aimed at achieving a majority in the MUP by employing ethnic Croats and Muslims, regardless of their qualifications, to the detriment of Serbs. The witness said it was a 'picture of a sad situation' in which all three sides often put forward unskilled yet politically suitable personnel for various posts. The witness noted that in his report he described how all three sides accused each other of violating the agreement of the three national parties on the division of posts in the MUP.
The defense referred to an announcement the ethnic Serbs in the leading positions in the BH MUP issued in early September 1991, where they noted that the deputy minister, who was from the Serbian Democratic Party, was bypassed in the decision-making process. The Serbs also claimed that a post that was supposed to go to a Serb incumbent was abolished and that persons who are not actually employees were issued ID cards. The witness reminded the court that at the same time the Muslim staff sent a similar letter to the SDA leadership, accusing the Serbs of unlawful behavior.
At the end of his examination-in chief, the witness told the prosecution about the constant disagreements between the VRS and the MUP on the issues of authority to arrest and prosecute police personnel. Having analyzed the documents, Nielsen concluded that the police was authorized to punish violations by fellow police officers if they were not in combat. As an example, the witness noted that the MUP was in charge of punishing all violations by police officers securing the military camp Manjaca in the summer of 1992. According to the witness, guard duty cannot be qualified as combat duty.
The defense will continue cross-examining Christian Nielsen tomorrow.