Home
PERISIC'S DEFENSE CASE BEGINS ON 25 JANUARY 2010
The defense of the former chief of the VJ General Staff Momcilo Perisic will begin its case on 25 January, and the first witnesses will be called the next day. According to the defense's estimates, the defense case should take 4 to 5 months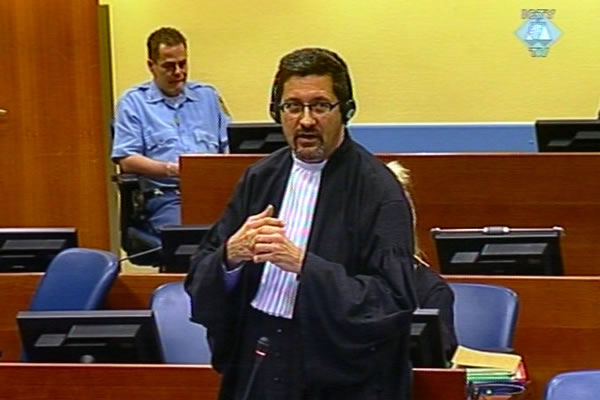 Novak Lukić, branilac Momčila Perišića
Although the prosecution called and examined its last witness at the trial of the former chief of the VJ General Staff Momcilo Perisic, it hasn't formally rested its case yet. The defense and the prosecution have yet to reach an agreement on more than 100 documents that were marked for identification during the prosecution case but have not been admitted as exhibits yet.
The prosecution case started on 2 October 2008. In 124 trial days, the prosecution called 94 witnesses; nine testified in closed session and 21 under protective measures. Almost 2,500 documents have been admitted into evidence so far, a fifth of them under seal.
The defense indicated that at the moment it didn't intend to file a motion under Rule 98 bis of the Rules of Procedure and Evidence, asking for the acquittal of the accused on the counts that have not been proven in the course of the prosecution case, in the opinion of the defense.
According to the scheduling order issued by the Chamber at the administrative hearing today, Perisic's defense case should start on 25 January 2010. The first witnesses will be called on 26 January. Perisic's defense counsel Novak Lukic noted that the defense might take 4 to 5 months to complete its case, but didn't give any names from the witness list which will be disclosed to the prosecution by 15 December. The defense witnesses, that much is known, will not be testifying about the crime base in Sarajevo, Srebrenica and Zagreb.
Perisic is charged with 'contributing substantially' to the crimes by providing personnel, logistic, financial and other support to the Republika Srpska Army and the Serbian Army of Krajina, whose troops are responsible for the artillery and sniper attacks on Sarajevo, the rocket attack on Zagreb, the execution of more than 7,000 Muslim men and boys in Srebrenica and forcible transfer of some 25,000 women, children and elderly from the enclave that was technically under UN protection.