Home
WHO 'EXPLOITED THE MISERY' OF THEIR OWN PEOPLE
Yesterday, in his cross-examination by Momcilo Perisic's defense, British colonel Pyres Tucker said that 'some elements among the Bosnian Muslims exploited the misery of their own people'. In his re-examination today, he explained he didn't mean the BH Presidency when he said that, but 'radical elements prepared to do anything it took'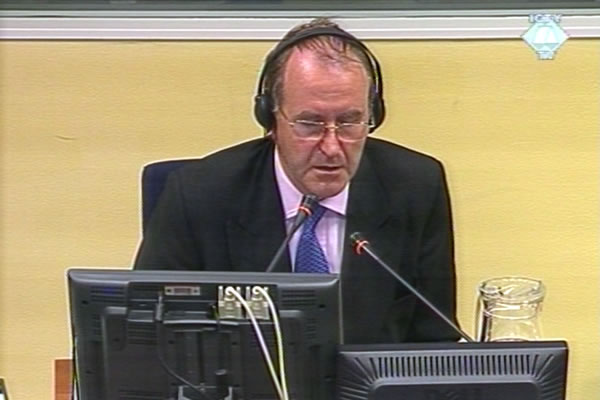 Pyers Tucker, svjedok na suđenju Momčilu Perišiću
British Army colonel Pyres Tucker continued his testimony at the trial of General Momcilo Perisic. In his re-examination, he identified clearly 'the elements among the Bosnian Muslims who exploited the misery of their own people'. Former staff officer serving under the UNPROFOR commander Philippe Morillon said there were such elements yesterday in his cross-examination by Perisic's defense.
Although he admitted he didn't have 'any clear evidence', Tucker said that 'exploiting the misery' was favored by 'radical extremists who were prepared to do anything it took'. The BH Presidency felt that the position of the civilians in Sarajevo was 'unacceptable' and that 'the international community should do everything it could to improve the situation, to prevent attacks on civilians and make it possible for them to live safely, with enough food and without fear'.
In his reply to Judge Picard, Tucker said that in March 1993 Bosnian Serbs proposed a simultaneous evacuation of Muslim civilians from Srebrenica and Serbs from Tuzla. The Bosnian Serbs insisted on checking whether there were 'any war criminals responsible for the massacres of villagers' in Kravica – as they put it – among the men of military age leaving Srebrenica.
This effort was only in part successful, Tucker recounted, and 40 Serbs were transferred from Tuzla to Zvornik. The authorities in Tuzla didn't agree with the evacuation of all the Serb: they thought it would be tantamount to ethnic cleansing. After that, some 600 women, children and elderly left Srebrenica in late March 1993 with a convoy carrying humanitarian aid. None of the men of military age left the town.
In reply to Judge David, Tucker noted that Serbs, Bosnian Muslims and the international media reported differently the situation in Srebrenica in March 1993. The Serbs claimed that General Morillon and the UN troops were held hostage in Srebrenica; the VRS tried to save them by attacking the enclave. The local media reported the civilian deaths and the UN efforts to deliver humanitarian aid. The international media, Tucker said, focused mostly on General Morillon's speech; in his address from the post office building General Morillon said that 'Srebrenica is under the UN protection'.
The trial of General Perisic will continue after the Trial Chamber rules on the prosecution motion to call three more witnesses before it rests its case. Perisic is charged with providing support to the VRS and contributing to the crimes they perpetrated in Srebrenica and Sarajevo while he served as the Chief of the General Staff in the VJ.