Home
PERISIC VISITING MLADIC DURING SREBRENICA OPERATION
At the trial of the former Chief of the VJ General Staff Momcilo Perisic, the prosecution has admitted into evidence a number of photographs taken on 18 July 1995 at the VRS Main Staff HQ in Crna Rijeka. The photographs show witness Ned Krajisnik with generals Ratko Mladic and Momcilo Perisic; today he confirmed their authenticity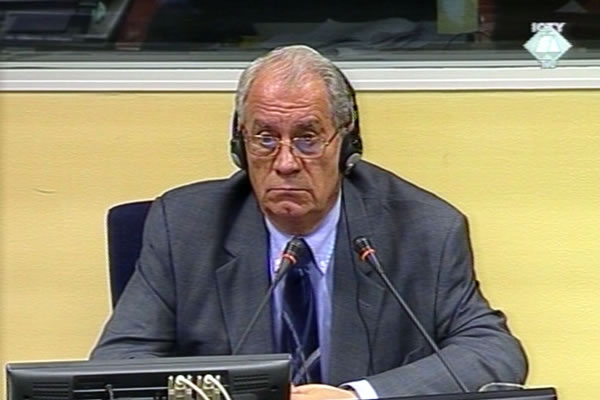 Ned Krajišnik, svjedok na suđenju Momčilu Perišiću
Through Ned Krajisnik's testimony, the prosecution is trying to prove that the former Chief of the VJ General Staff Momcilo Perisic was present in the VRS Main Staff in Han Pijesak on 18 July 1995, a week after Mladic's forces entered Srebrenica. According to the indictment charging Perisic with providing support to the VRS and contributing substantially to the crimes its troops committed, thousands of Muslim men and boys were executed in Srebrenica between 13 and 19 July 1995, after they were captured by the forces under Ratko Mladic's command. The indictment also alleges that the status and benefits of Ratko Mladic, who was the commander of the Republika Srpska Main Staff, were regulated through the 30th Personnel Center of the Yugoslav Army.
[IMAGE]4411[/IMAGE]In 1992, Ned Krajisnik founded a humanitarian organization, Republika Srpska, in Canada. Its mission was to 'gather voluntary contributions and deliver goods' to the Bosnian Serbs. On 17 August 1995, he handed over some equipment to the Military Medical Academy in Belgrade. Afterwards, Krajisnik and some other founders of the organization travelled to Crna Rijeka where they handed over some money and goods to General Mladic. Photographs were taken on that occasion; they show not only Mladic and his guests from Canada, but also a visitor from Belgrade, General Momcilo Perisic, the Chief of the Yugoslav Army General Staff.
According to Krajisnik, the two men, Perisic and Mladic 'got on well'. Although he said, in a statement he gave to the prosecution two months ago, that Mladic and his assistant for morale, Milan Gvero, spoke about the 'liberation of Srebrenica' on 18 July 1995 in the presence of Perisic and the guests from Canada, today he couldn't recall it, and the prosecutor had to refresh his memory.
The prosecution tendered into evidence video footage recorded on 17 August 1995 at the Military Medical Academy in Belgrade and later on in the VRS Main Staff in Han Pijesak. In the footage, Mladic explains to his guests from Canada that 'the VRS in engaged in heavy fighting around Zepa', and that 'the Zepa area will be dealt with as has the Srebrenica area'. The witness couldn't recall if he had heard Mladic speak about Srebrenica, because he 'wasn't paying attention'.
As the hearing drew to a close, the defense started cross-examining Ned Krajisnik. He will complete his evidence tomorrow.